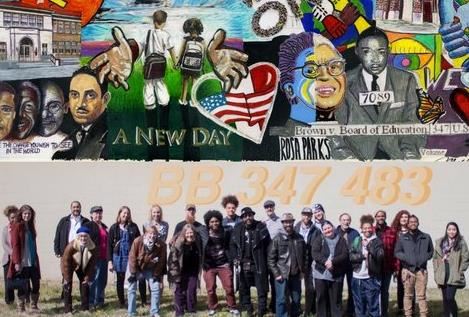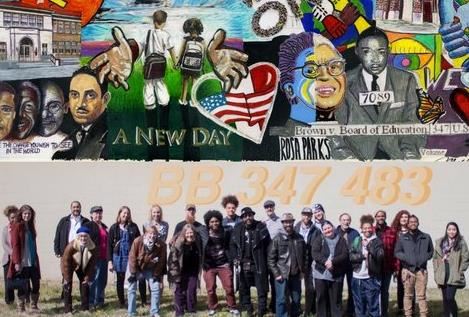 Make Your Mark
May 10, 2018
ARTSConnect of Topeka is leading a visual movement of ideas through a community-based mural project that draws inspiration from the Brown v. Board decision. Titled "And the Children Shall Lead," the mural incorporates elements from artwork submitted by local youth for the Living the Dream, Inc.'s, annual art contest held in honor of Martin Luther King, Jr. Day. The mural reminds us of the critical importance of equality and justice in our society and represents a living example of the Civil Rights movement in action.
The mural is located across the street from the Brown v. Board National Historic Site. Artist Michael Toombs is directing the painting of the mural with a team of artists and members of the community. Toombs "would like to see everyone in [Topeka] put a mark on this mural."
Make your mark! The first community mural painting event is Saturday, May 10 at the Brown v. Board National Historic Site. An additional community event takes place on June 16 and the mural dedication is August 18. Visit ARTSConnect for more information.
Humanities Kansas provided a grant for the documentary short film and public programs presented as part of the mural project. Humanities Kansas grants support public humanities programming related to visual arts projects (HK does not support murals or other visual arts projects). Contact Murl Riedel, director of grants, for more information.
Join the movement of ideas
1. Explore History: Topeka has a rich African American legacy that you can partake in using the Brown v Board National Historic Site driving tour. The tour covers the Bleeding Kansas period through segregation and the Brown v. Board decision. Share your tour experience. Post a photo on Instagram and tag @humanitieskansas and include #movementofideas.
2. Make Your Mark: Be a part of the Civil Rights movement by literally leaving your mark on the wall at the community mural painting event on Saturday, May 12. The theme of the mural "And the Children Shall Lead," serves as a timely reminder that the youth activism of the Civil Rights movement continues to resonate with the youth activism of today.
3. Share Ideas: The insights and ideas we share in conversation light the road ahead. Bring a Humanities Kansas speaker presentation to your community on topics including segregated schools, Exodusters, or the Civil Rights movement. View the full list of speakers.