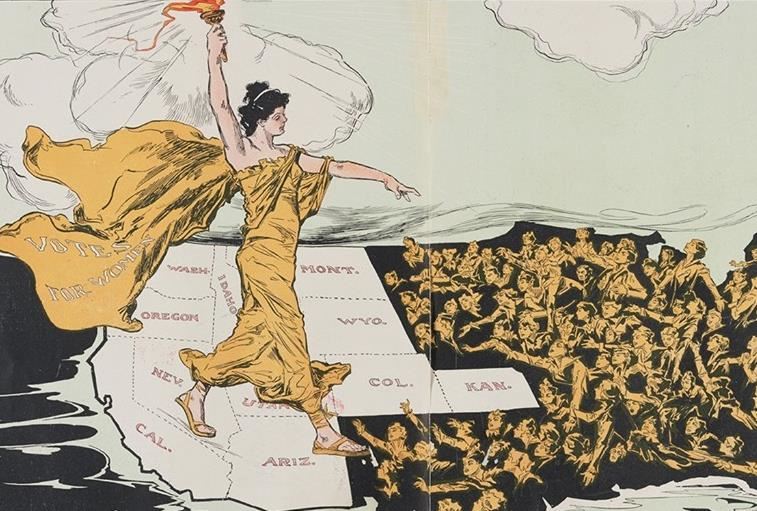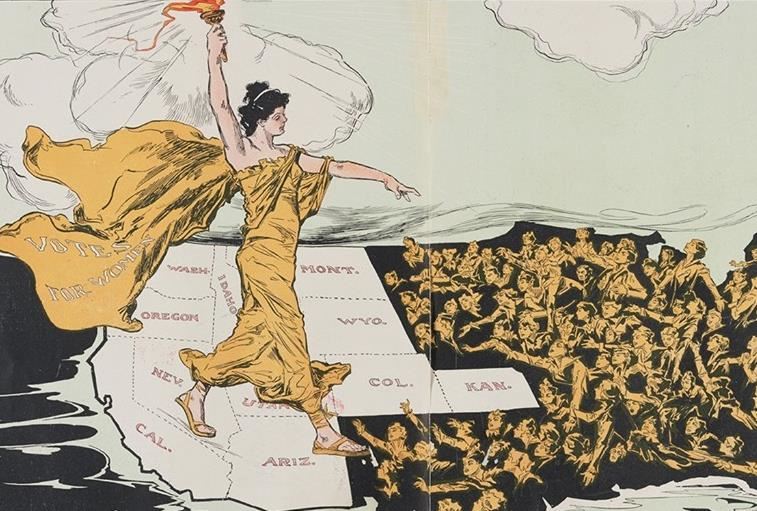 Centennial Celebration of Women's Suffrage
April 13, 2020
2020 marks the hundred-year anniversary of the passage of the 19th Amendment, the constitutional amendment which granted women the right to vote. Suffragists and women's rights activists in Kansas played a central role in getting the 19th amendment passed.
Test Your Knowledge
How much do you know about the 19th Amendment? Take the 19th Amendment quiz and see! Need more information first? Explore these resources for more. Thanks to Sarah Bell, Aaron Barnhart, and Diane Eickhoff for submitting the questions.
Read
Explore our state's connection to this landmark legislation by reading "I Am Woman, Hear Me Roar" and "Failure is Impossible," two short article showcasing Humanities Kansas projects that examine how Kansans' advocacy for women's rights at the state level paved the way for national change.
Listen
Then, take time out to listen to The Archiver podcast episode, "Women and Sunflower Politics," to learn about women's groundbreaking involvement in Kansas politics, all the way from Susanna Salter, who became the state's first female mayor of Argonia, Kansas in 1887, to Nancy Kassebaum, who became the state's first female senator in 1978.
Dial-a-Speaker
You can go deeper by participating in our new Dial-a-Speaker program. Sarah Bell, local historian, will present her talk "Politics on the Platform: Women's Suffrage at the Chautauqua" via phone, skype, or zoom, for those who want to learn more about how the movement for women's suffrage got its start in Kansas. Email abigail@humanitieskansas.org to schedule a virtual presentation with Sarah.
Be Part of History
Want to make your own mark on history? Participate in the Library of Congress's "By the People" project, an online database of historical documents in need of transcription and review for digital archiving and search purposes. Their collection "Suffrage: Women Fight for the Vote" allows you to get a close look at hand-written documents by some of the movement's most famous leaders, including Susan B. Anthony, Elizabeth Cady Stanton, Mary Church Terrell, Carrie Chapman Catt, and Anna E. Dickinson, and then help transcribe them for posterity. Get started with directions on how to start transcribing and reviewing.
Follow
Follow the Centennial Celebration of the 19th Amendment Facebook page from the League of Women Voters of Kansas for daily posts about the legacy of the 19th Amendment.
As always, we want to know what stories you're discovering along the way! Keep us posted by tagging us @humanitieskansas #storychasershk #humanitiesathome #movementofideas.
Banner Image: Mayer, Henry, Artist. The awakening / Hy Mayer. United States, 1915. New York: Published by Puck Publishing Corporation, 295-309 Lafayette Street. Photograph. https://www.loc.gov/item/98502844/.