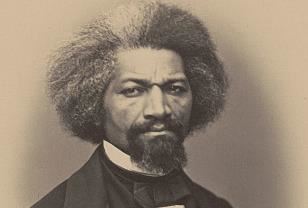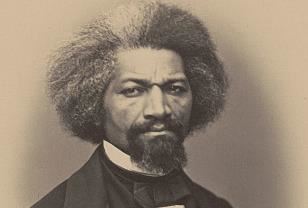 We Read Frederick Douglass
July 1, 2020
"The Fourth of July is yours, not mine. You may rejoice, I must mourn."
-Frederick Douglass, July 5, 1852
In 1852, the Ladies' Anti-Slavery Society of Rochester, New York, invited abolitionist leader and celebrated orator Frederick Douglass to give a speech in honor of Independence Day. Douglass, who had escaped slavery in 1838, agreed to speak on July 5, the 25th anniversary of the celebration of the end of slavery in New York. At Rochester's newly constructed Corinthian Hall to an audience of 600, Douglass delivered a speech that is now called "What to the Slave is the Fourth of July," a powerful oration that challenged American ideals of freedom at a time when an estimated 3.9 million people were enslaved and the Fugitive Slave Act allowed for the seizure and return of slaves who had escaped to the North.
DOUGLASS: What, to the American slave, is your 4th of July? I answer: a day that reveals to him, more than all other days in the year, the gross injustice and cruelty to which he is the constant victim. To him, your celebration is a sham...
Douglass's words endure and are a catalyst for contemporary conversations about equity and civil rights. In order to engage more people of Kansas in this conversation, ArtsConnect of Topeka will host a community reading of Douglass's "What to the Slave is the Fourth of July" speech. The event is supported by an HK Humanities for All grant and features more than 30 readers from Topeka who will read the speech from start to finish, including Poet Laureate of Kansas Huascar Medina and poet Annette Billings. The reading will be broadcast online on July 5th, 2020 at 10:00 a.m. Following this, the video will be made available to any organizations or individuals who wish to replay the performance.
"ArtsConnect is excited to have an opportunity to continue to do work that fosters important conversations, creates connection and uses the arts as a tool for social change," said Sarah Fizell, ArtsConnect Executive Director. "This reading helps strangers become friends, our community become stronger and artists become activists for social justice. The issues that Douglass so eloquently addresses in this speech reflect a continued struggle for equality and justice in the United States."
"Humanities Kansas values opportunities for community members to come together and reexamine our histories, values, and aspirations for the future," said Julie Mulvihill, Humanities Kansas Executive Director. "Douglass' words powerfully shape a better understanding of America, the legacy of slavery, and the promise of democracy."
Use this link to view the community reading on Sunday, July 5, at 10 a.m.: https://www.facebook.com/ArtsConnectTopeka/posts/3568447719851906. RSVP to the Facebook invitation for updates.
Join the Movement of Ideas
Photo credit: Frederick Douglass by J.W. Hurn, 1862. Library of Congress.