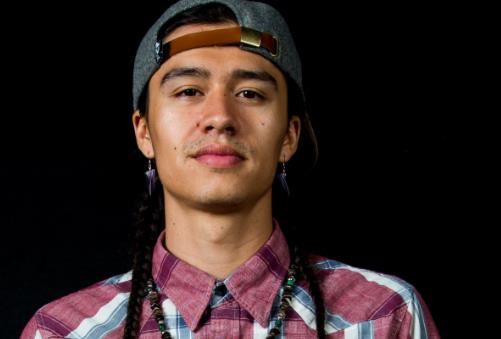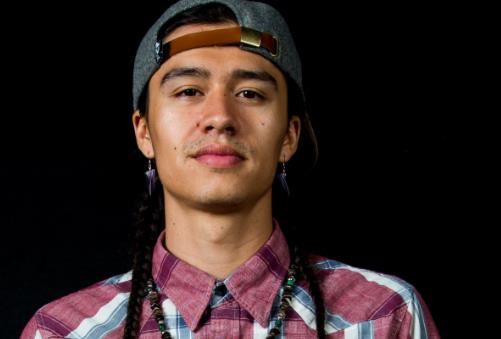 AbOriginal
December 20, 2018
When Frank Waln moved to Chicago from the Rosebud Sioux Reservation in South Dakota to study audio arts and acoustics at Columbia College, he knew no one. Riding the elevator to his dorm room during his first week on campus a fellow student complimented him on his braids. Waln thanked her and replied, "I'm Lakota" by way of explaining the braids he wore in the traditional style. When she looked confused he elaborated, "I'm Native American" to which his elevator mate responded, "You guys are still alive?"
For Waln this was a revelation, and he set about to remedy this cultural erasure and restore pride in indigeneity amongst his people. The medium he used to accomplish this: hip hop.
Waln's artistry and activism are reasons that Stacy Freeman chose Waln for the third "Highland Community College Cultural Series" event on January 28 on Native Americans. Freeman noticed a need for opportunities for students to learn outside of the classroom when she became an instructor in English at Highland Community College over two years ago. She was also looking for ways to engage the public in the northeast Kansas town of Highland (population 1,000). To accomplish this, Freeman organized the series of public programs around the theme of social justice She felt that since the town of Highland was founded by missionaries near the Iowa and Sac and Fox reservation that a Native American theme seemed fitting. The series kicked off in October with the support of an HK Humanities for All grant.
According to Freeman, Waln "speaks honestly about the way Native American culture has been exploited, misappropriated, and symbolically annihilated. He speaks about historical trauma and the devastating results of colonization. He speaks about ecological sustainability." She noted, "He speaks his truth, but he does it using a contemporary art form: hip hop. It's pure genius."
Waln uses his artistry to consciously reconnect to his culture and language. He even learned Lakota in order to use it in his songs. He lamented that his great grandparents' generation was the last to speak their language due to being forced to attend boarding schools away from the reservation. Boarding schools such as Haskell in Lawrence, forbade speaking indigenous languages in attempts to "civilize" the natives.
Hip hop provides the means for Waln to view and express Native culture from a noncolonial lens—on his own terms. In doing so, he infuses his work with Native rhythms, drums, flutes, and language. This approach has won him multiple Native American Grammy awards. He uses his fame to serve as a role model for his community by promoting self-empowerment.
Interdisciplinary work is becoming increasingly important, Freeman explained. The cultural series uses an interdisciplinary approach in order to emphasize the arts and humanities in the lives of the Highland community.
Freeman hopes to make the Highland Cultural Series a yearly event around interdisciplinary topics that center around STEAM (Science, Technology, Engineering, Arts, and Math). Upcoming events in the series include Engineering & Social Justice on February 11, 2019 and Arts & Social Justice on March 4, 2019.
Join the Movement of Ideas