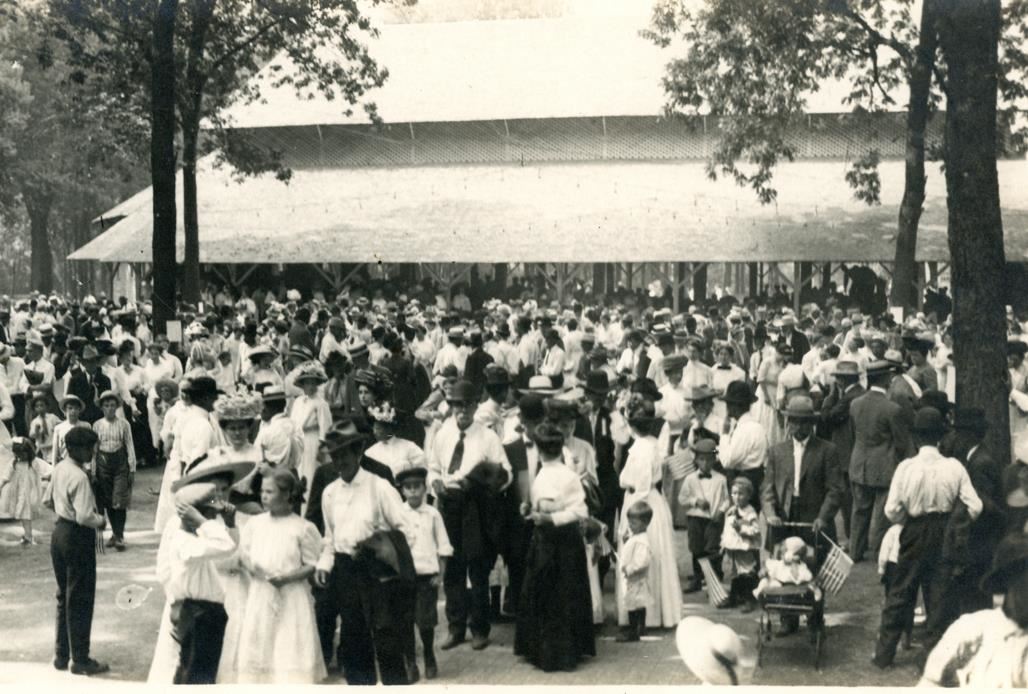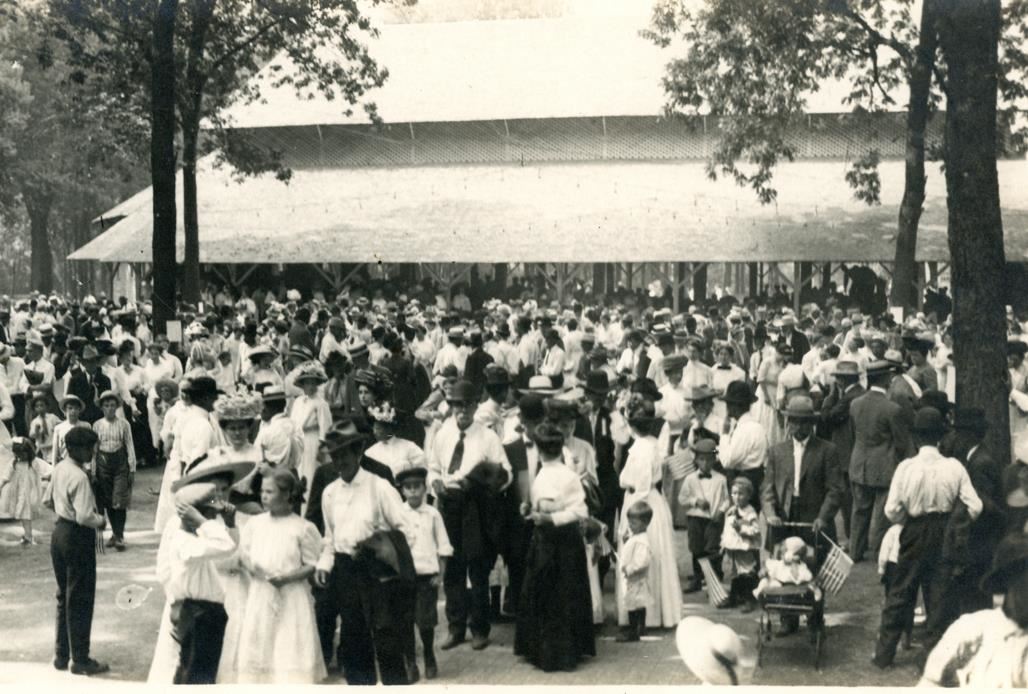 Voices and Votes: "The Most American Thing in America"
March 13, 2023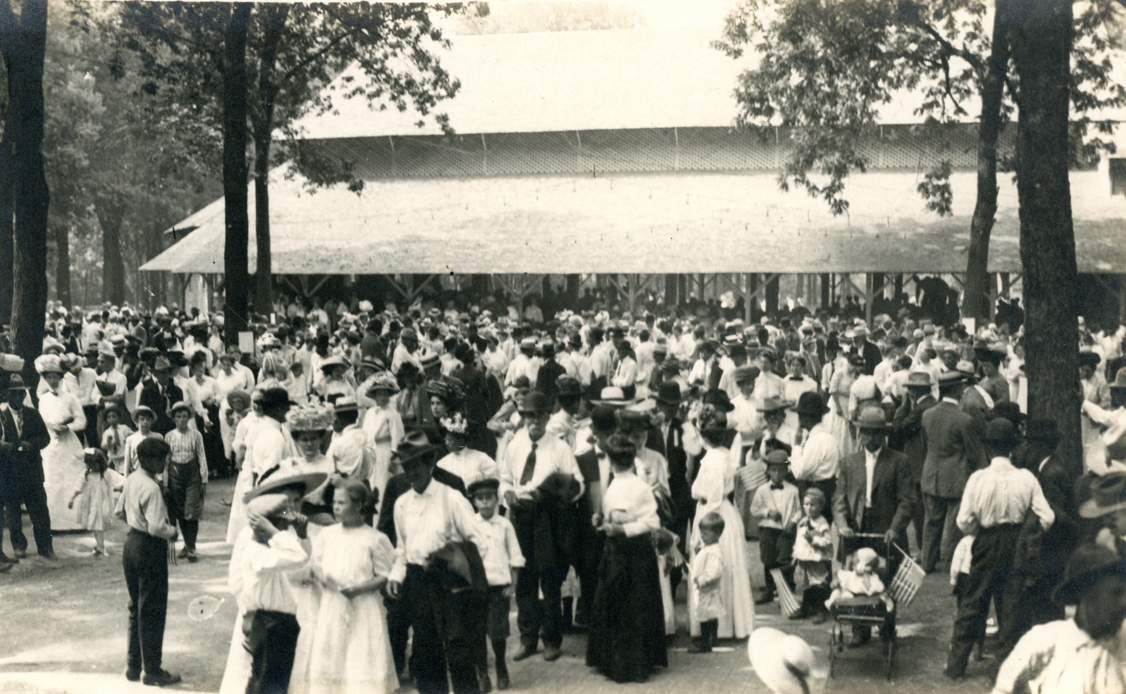 Theodore Roosevelt called it "the most American thing in America." During World War I, Woodrow Wilson referred to it as "a patriotic institution that may be said to be an integral part of the national defense." What could possibly inspire this level of praise from two American presidents? The answer is Chautauqua, a cultural movement of the late 19th and early 20th centuries that brought people together to reflect on and discuss the issues of the day. Like many Kansas communities, Winfield played a vital role in this turn-of-the-20th century movement of ideas.
Chautauqua was founded in Lake Chautauqua, New York, in 1874, as adult educational lectures by the Rev. John Heyl Vincent, a Methodist minister, and Lewis Miller, a successful businessman. "WE ARE ALL ONE on these Grounds," said Miller. "No matter to what denomination you belong, no matter what creed, no matter to what political party of the country. You are welcome here, whether high or low." The Chautauqua movement caught on and caught fire across the nation, notably in Kansas, where Winfield, Ottawa, Cawker City, and other communities hosted long-running summer Chautauqua assemblies. According to Chautauqua historian Dr. Rolland Mueller, "For millions of individual Americans it was an important source of education, culture, recreation, and social contacts."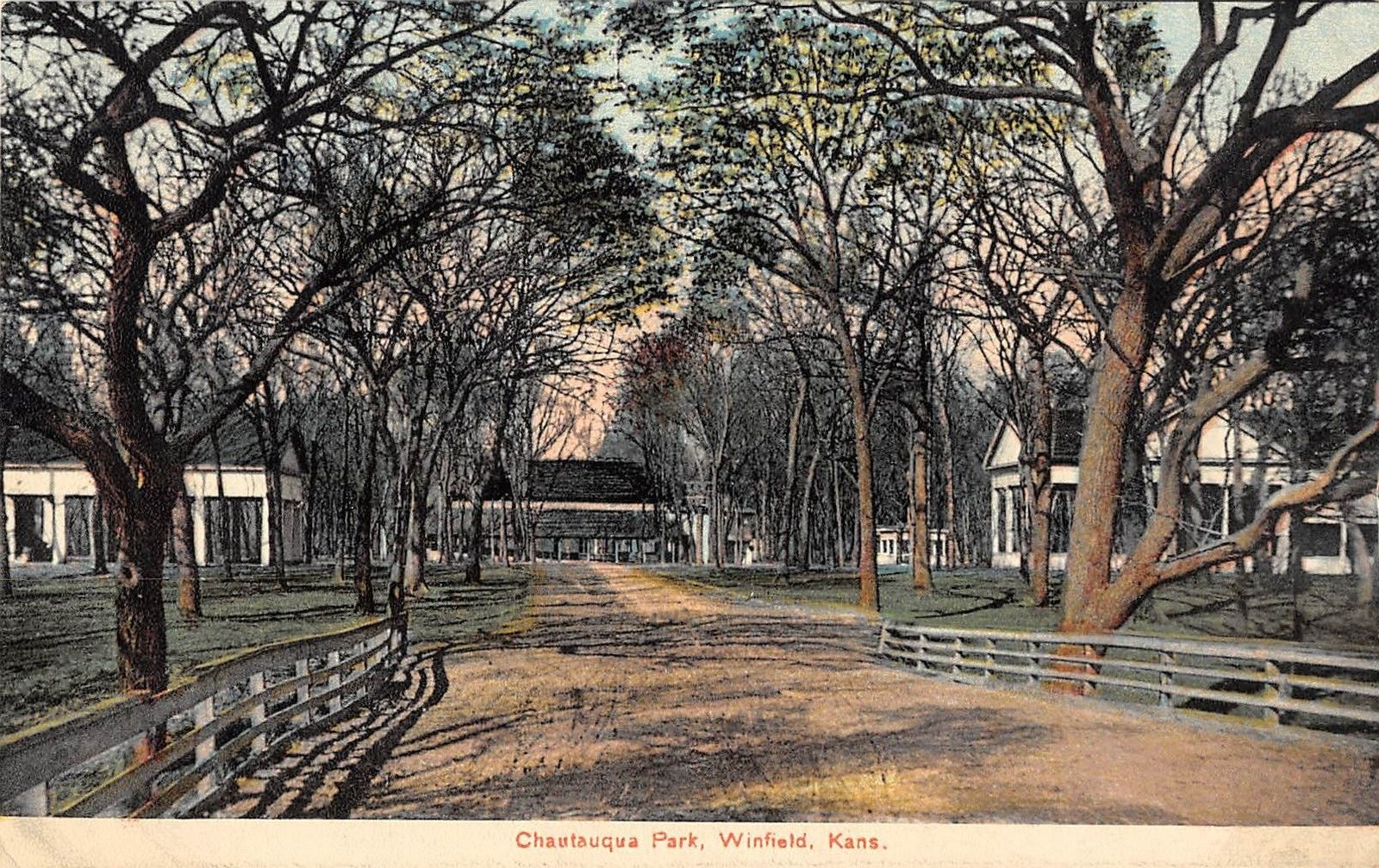 Winfield's Island Park was home to summer Chautauqua from 1887 to 1924. "There is no spot more beautiful than Island Park," effused The Daily Courier in 1892. "Its winding water course, stately trees, handsome carpet of green with winds making music in the boughs and branches overhead and blue canopy of heaven covering it all." The park had space for visitors to stay, explained Dr. Mueller: "The western third of the island was reserved for tents…Visiting Chautauquans were urged to camp as the best means of getting the fullest benefit from courses and program." Winfield's local Chautauqua association partnered with the city to build a Hall of Philanthropy and a tabernacle that could seat 3,500. Crowds of up to 10,000 swelled the park to see popular orator and three-time presidential candidate William Jennings Bryan on one of his four visits.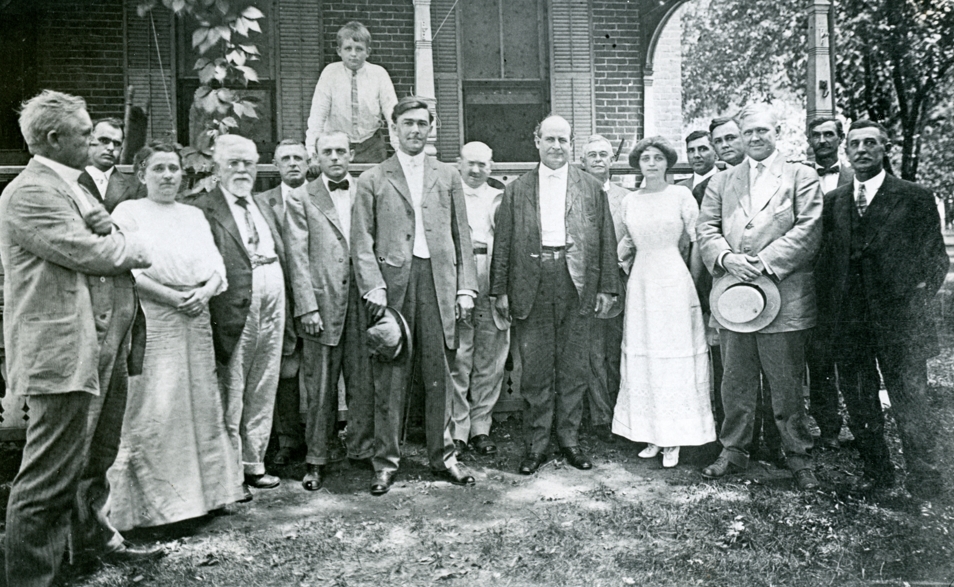 Families would travel by rail and wagon to attend Chautauqua, taking advantage of the educational opportunities for the "common man." "Chautauqua is a great university whose students are scattered in homes, on farms, in shops and factories, in towns and mining camps, in cars and ships, wherever a human soul carries the love of learning," proclaimed the program for the 1896 Ottawa Chautauqua Assembly. "Then once a year they flock to the great assembly to study under competent professors to round up the year's work, to receive diplomas, to form new classes, and to go back to life's duties refreshed and inspired."
This democratic approach to education had an enormous impact on women. One of the lasting legacies of Chautauqua is the way that it engaged women – primarily white, middle-class women – in the pursuit of studies at a time when educational opportunities were limited. The Chautauqua Literary and Scientific Circle (CLSC) offered a four-year correspondence course that could be pursued at home. Winfield had five CLSC groups and graduated hundreds of local residents – both men and women – from the program of independent study in religion, history, science, literature, and the arts.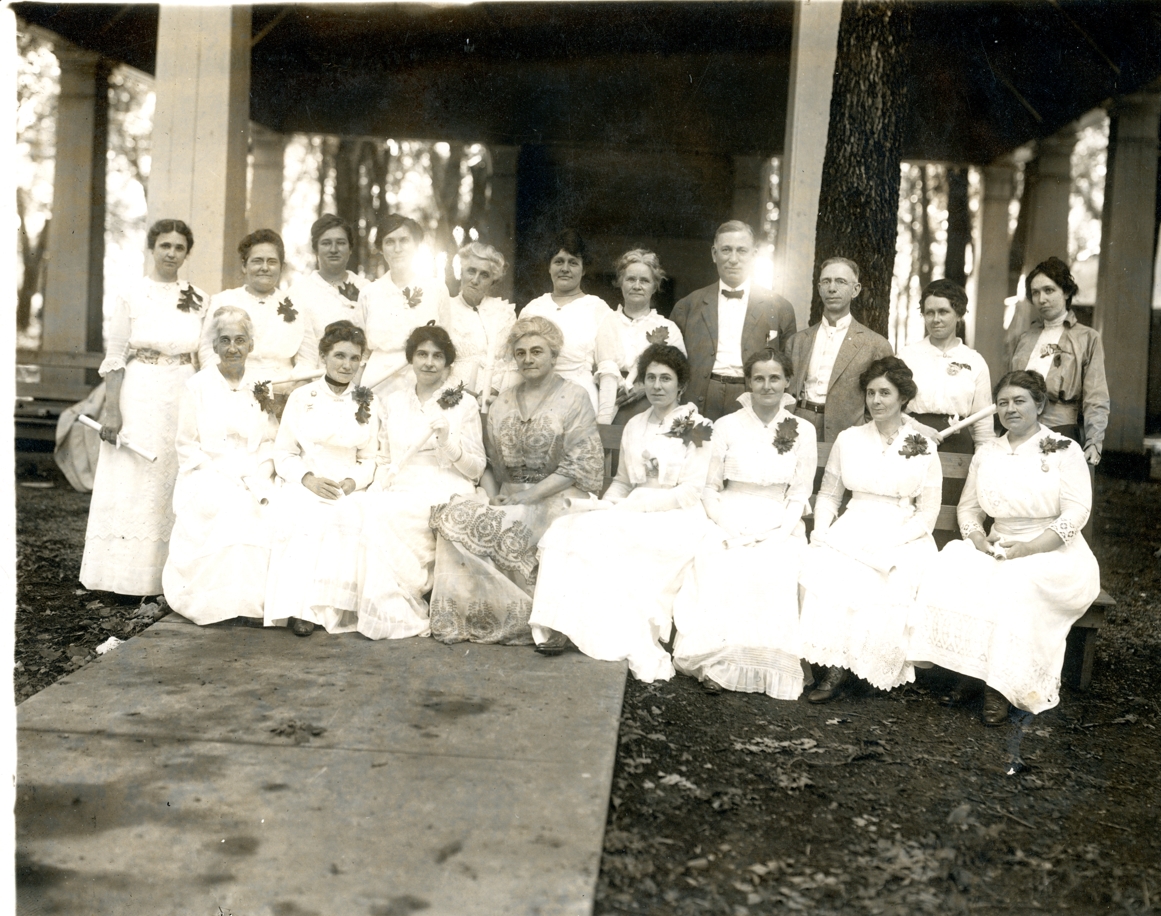 Women also lectured on the Chautauqua circuit on topics including temperance, religion, literature, and eventually, women's suffrage. The Winfield Chautauqua welcomed the Rev. Dr. Anna Howard Shaw to Island Park in the summer of 1892. Shaw was an ordained Methodist minister and chair of the Franchise Department of the Women's Christian Temperance Union. She traveled extensively to support women's voting rights believing that women's access to the ballot would result in the election of more temperance candidates. "The subject of this brief sketch may be considered one of the brightest stars on the lecture platform," wrote the Winfield Monthly Herald. "She asks this very pertinent question: 'Why is it that so few monuments are built in honor of noble, heroic women?'... Women do not merely ask for pockets and pocket books. They can earn a living. There are no laws preventing them from engaging in any business enterprise they please, but they do ask that when the voice of the people is to speak, that women shall be counted with the people." National speakers like Shaw made an important impact on communities like Winfield, observed Dr. Mueller. "By bringing many of the vital social and political issues of the day to the attention of millions of Americans, Chautauqua was an important vehicle for creating public opinion, especially in the Central states...It brought education, culture, social opportunities and entertainment to thousands of Winfielders between 1887 – 1924."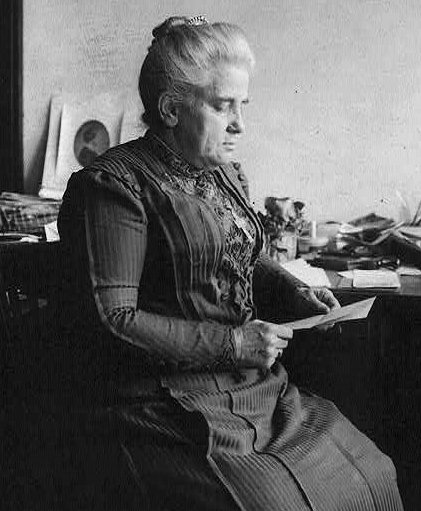 "For millions of individual Americans [Chautauqua] was an important source of education, culture, recreation, and social contacts."
"While Chautauquas may no longer exist in their original form today, their intent to inform, educate, entertain, and enlighten lives on through public libraries, modern Chautauquas of sorts, that provide such spaces in communities," added Joanna Brazil, Youth Services Librarian at the Winfield Public Library.
"We are honored and thrilled for this opportunity to share the history, story, and spirit of the Chautauqua with new generations of citizens. The topics of both Voices and Votes as well as the Chautauqua companion are particularly timely for Winfield, as our community celebrates its 150th anniversary this year."
Winfield's Chautauqua, and others across Kansas, provided a platform for thoughtful discussions of democracy in the late 19th and early 20th centuries. It's this story that the Winfield Public Library will explore in more detail in their exhibition, Chautauqua: The Most American Thing in America. The exhibition is a companion to the Voices and Votes: Democracy in America Smithsonian exhibition coming to the Winfield Public Library October 7 – November 19, 2023. For events and details, visit www.wpl.org.