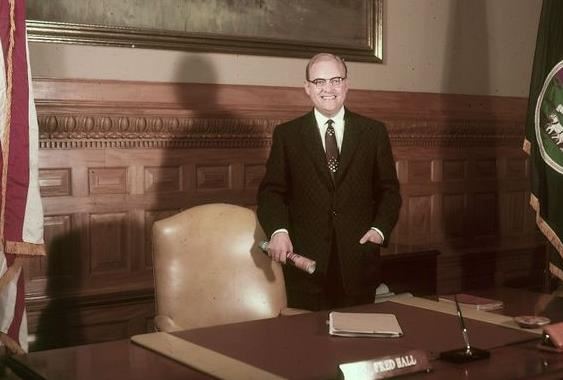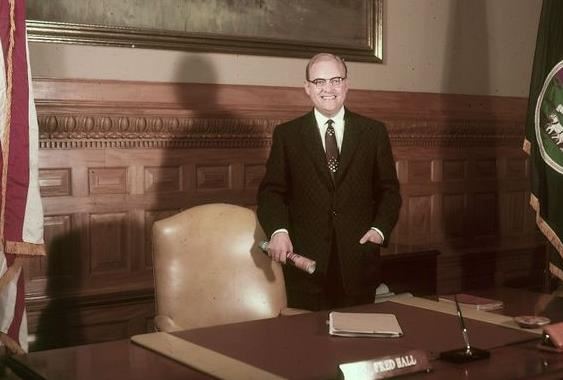 TV, The Triple Play, and the Man from Dodge
By: Sam Zeff and Matt Hodapp
Archiver Podcast/Fountain City Frequency
I want to tell you about a scandal. It's the only scandal in the history of the Kansas court system. It's the story of an ambitious politician that tainted both the governorship and the state's highest court.
The story starts on September 23, 1952 at the El Capitan Theatre in Los Angeles. There Richard Nixon would deliver his famous "Checkers" speech.
At the time he had just been nominated as Dwight Eisenhower's running mate, but the press got wind of a secret fund Nixon's supporters created for him to pay political expenses. Not surprisingly, charges of improprieties surfaced followed by calls for him to resign from the ticket.
So, Nixon did something that's never been done, he went directly to the people on television.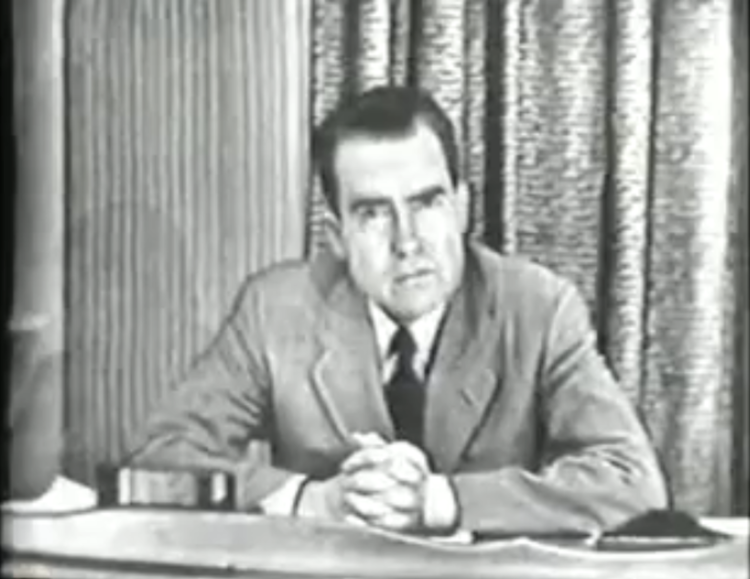 Going straight to the people seems so easy now, YouTube, Instagram, Twitter. But 60 years ago it was unheard of to go around the media was revolutionary.
We can't know for sure, but it's a pretty good bet that a 36 year old Dodge City Republican name Fred Lee Hall was watching.
The night of the Nixon speech, Hall was Kansas Lieutenant Governor. Hall was ambitious, but unpopular among the GOP elite in Kansas. He would go on to be elected governor, but find himself on the outskirts of the party.
Hall, like Nixon, would go directly to the people on TV, and he would change politics and the legal system in Kansas in a way we that we are still feeling right this minute.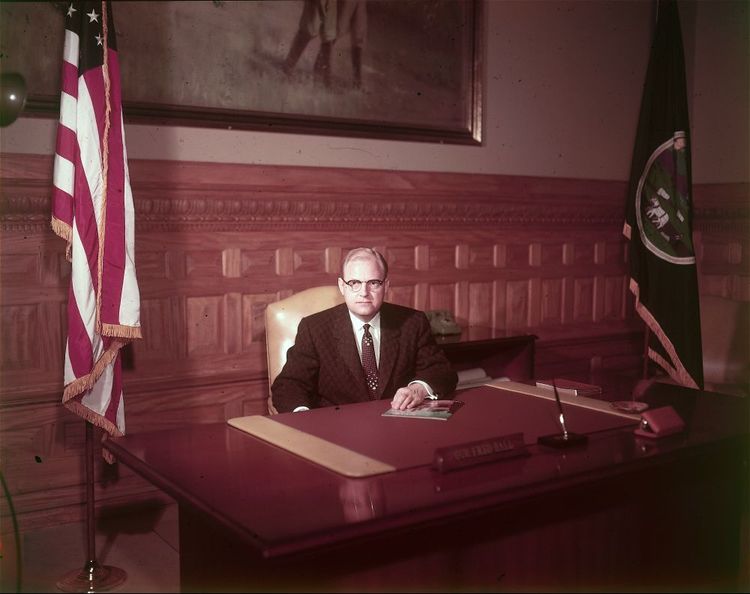 There's two things that strike people about Fred Hall. First, there's a bit of Bernie Sanders in his politics, he's way more liberal than most Republicans in Kansas at the time. He was for pumping more money into public education and prisons. And, he was pro union. While most Republicans in the state weren't as conservative as they are now, they certainly were not pro union. That, more than anything, would drive the Fred Hall story.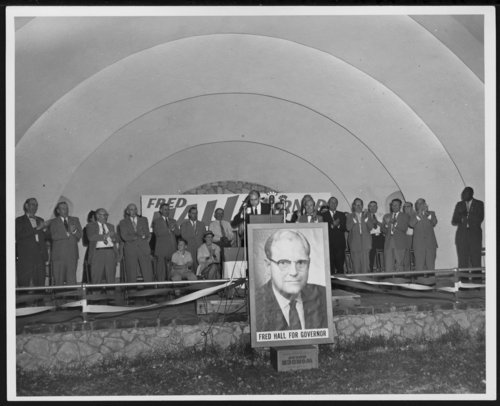 After two terms as Lieutenant Governor, he won the Republican nomination for governor in 1954, albeit with little enthusiasm from the party. It was pretty clear the GOP wouldn't tolerate another Hall term in 1956, and that was especially true after he battled the Legislature.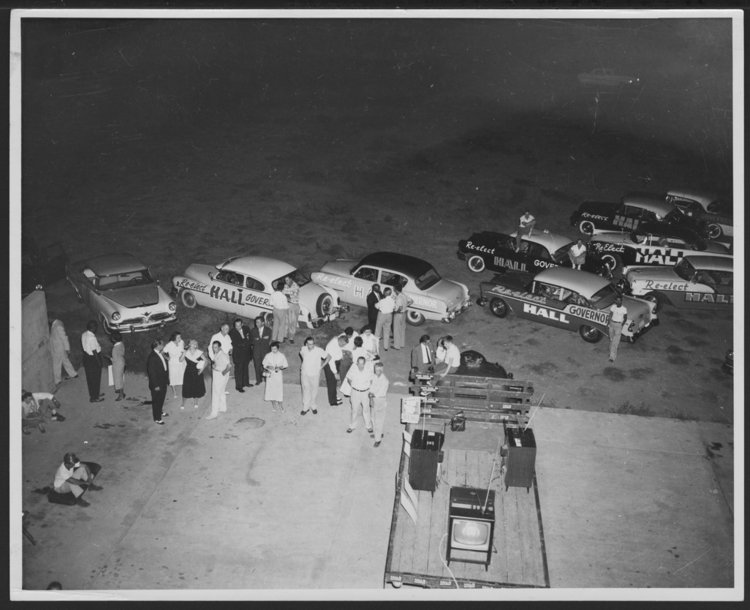 In 1956, he had a tough GOP primary ahead, and without party backing he did what virtually no politician had done before; he went on television to speak directly to the people.
The first of his 30 minute television specials aired in January, 1956. These half hour shows aired on WIBW in Topeka, KAKE in Wichita, and WDAF in Kansas City. And the TV shows may have added to Hall's trouble with the party.
In one show, he talked about pumping more money into prisons. He wanted to not just incarcerate people but try to rehabilitate them with education and psychological help. In another, he went on about how important public schools are, and how Kansas not only needed more teachers but to pay them more money. And in all of them, he talked about the cabal of men running the state and how he was elected to "throw the rascals out".
But nothing helped, Hall became the only sitting governor in Kansas history to lose the Republican primary. He was the lamest of lame ducks. But Hall wasn't done. He had a reputation for being aggressive and pugnacious. But nobody could have predicted his next move.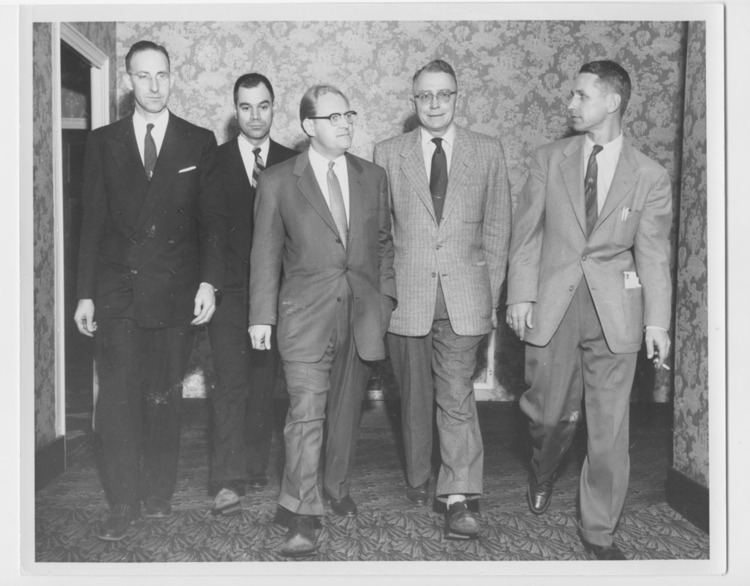 His next move was a conspiracy that was both sleazy and genius. Fred Hall had no plans to move back to Dodge City as a loser, as a one-term governor. He concocted the only judicial scandal in Kansas history. It even has a cool name: the Triple Play.
In addition to Hall, there were two other actors in the Triple Play. First, there was the chief justice of the Kansas Supreme Court, William Smith, a long time Republican party stalwart. Remember, Kansas was electing judges back then.
How long had Smith been a player in GOP politics? Remember the Archiver episode on John Brinkley, the goat gland doctors who ran a write-in campaign for governor in 1930? Well, many believed Brinkley might have won had not so many ballots been disallowed. The man in charge of deciding which ballots were legal? William Smith, who was state attorney general at the time.
The other player was Lt. Governor John McCuish. He was a newspaperman by trade, he owned the Harvey County Times in his hometown of Newton.
So, here's the triple play:
On December 31st, 1956, Smith sent a letter to the Secretary of State resigning as Chief Justice. Smith was ill and wanted to resign, but being a good Republican, he didn't want to quit and let the newly elected Democratic Governor George Docking pick his replacement. Then on January 3, 1957 Hall sent a similar letter, quitting just 11 days before his term ended. McCuish was in the hospital in Newton and Hall dispatched a Highway Patrolman to bring him back to Topeka. McCuish was automatically elevated to Governor and he immediately appointed Hall to the state's highest court and The Triple Play was done. Hall was on the supreme court where he hoped to launch a future bid for governor.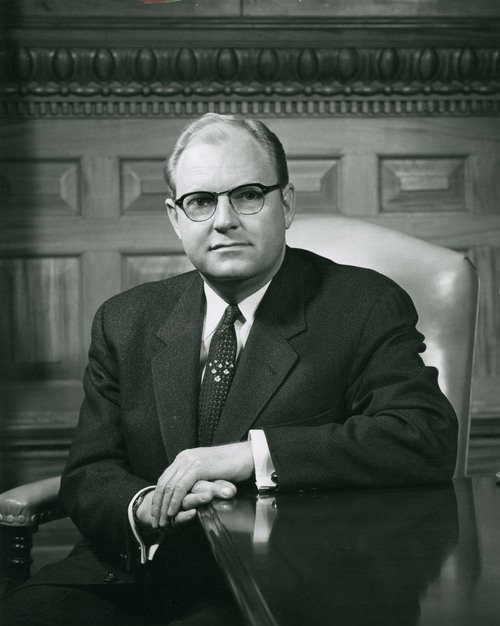 But Kansas wasn't used to that kind of back room deal and the backlash was immediate and severe. This is what the Kansas City Times had to say in January 1957, The headline was "A Brazen, Raw Deal for Kansas Justice":
"The deal was cloaked in deepest secrecy. This indicated the participants were fearful of public reaction and did not believe it could stand the light of day. Involved was not merely a political appointment. It was an appointment to the highest court in the state."
In the 1957 session, the Legislature would pass a constitutional amendment requiring justices to be chosen with a merit system. The next year, the amendment passed with 70 percent of the vote. And everyone was happy at least until a few years ago.
Fred Hall had no way of knowing that The Triple Play would directly affect one of the hottest issues in Kansas politics today, how the state funds public education.
Up until the 1990's, nobody thought much about how Kansas picked supreme court justices and judges for the court of appeals. Except for The Triple Play, there had never been a scandal, Kansas courts generally had a good reputation. But, in 1992, a lawsuit now known as Montoy v. Kansas was filed alleging the state wasn't putting enough money in the school system and that violated article six of the state constitution.
The case gets to the supreme court and the justices agree, Kansas lawmakers needed to find more money for schools. The state also lost a case called Gannon, the case that is now causing conservatives in the Legislature and Governor Brownback to desperately want to dump the merit system that was born from the triple play.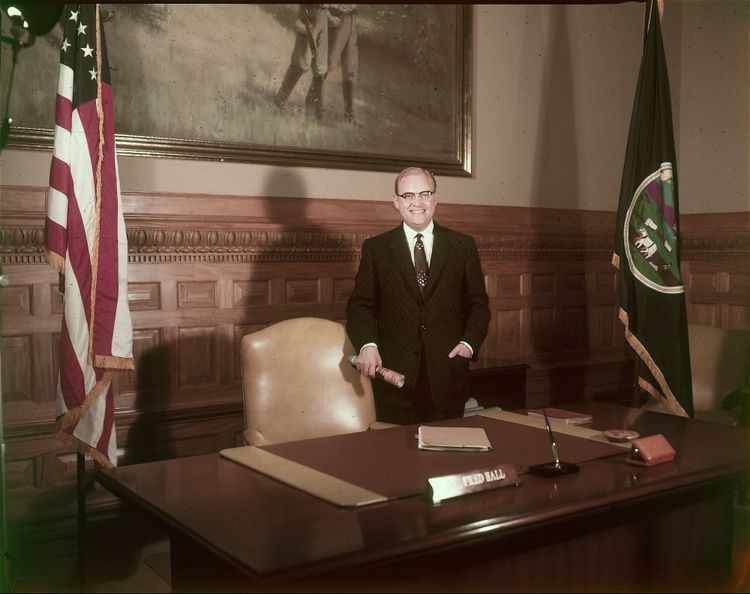 For all the turmoil and trouble Fred Hall would cause, his stint on the Kansas political stage was pretty brief. He spent just two years as a justice, resigning in 1958 to make another run at the Republican nomination for governor, where he was trounced by 60 points by Clyde Reed, Junior who spent most of his life as the editor of the Parsons Sun.
Hall would go on to a successful career as a lawyer in California in the booming aeronautics business. He eventually returned to Dodge to practice law. But in his fairly brief political career he introduced television to Kansas politics and a scandal to the court system. He would be responsible for radically changing the way judges are picked and for the political battle over the same thing today.
Hall died in 1970. He was only 53.
Our theme music is used in this episode is Shy Touches by Nameless Dancers. Other music used in this episode is Ladybirds Theme by David Szesztay, Cocek by The Underscore Orchestra, and Sweet Georgia Brown by Latche Swing; all three have been edited.