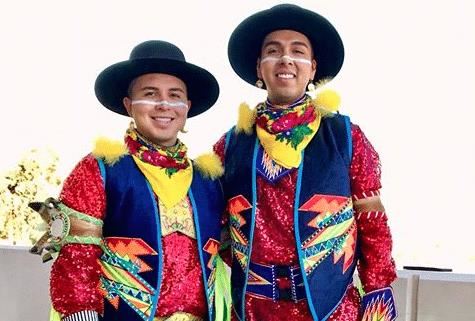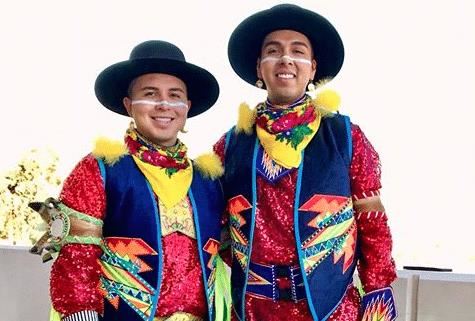 Sweetheart Dancing
June 17, 2019
Dressed in identical regalia of black gaucho hats, yellow floral bandanas, blue beaded vests, and red sequined shirts, Adrian Stevens (Northern Ute, Shoshone-Bannock, and San Carlos Apache tribes) and Sean Snyder (Navajo Nation and Southern Ute tribes) entered the powwow arena at the San Manuel Band of Mission Indians powwow in San Bernardino, California, in October 2017 and waited for the drums and singers to begin so that they could dance. The two registered to perform in the Sweetheart's Special dance category. With thousands of dollars of prize money awarded to the couple with the best routine, they practiced their dance nonstop for months.
Despite their elaborate costumes, fancy footwork, and synchronized choreography, Snyder and Stevens did not make it out of the first round. The judges disqualified them. In their disqualification the judges noted that the rules clearly stated that a couple must be made up of a male and female. Snyder and Stevens are a same sex couple.
Snyder and Stevens will be speaking about their experience at "Breaking Social Barriers in Traditional Structures," part of the Red Talks speaker series at the Young Professionals Powwow 2019 in Lawrence. The series is produced by Mini-Moccasins, Inc., with the support of a Humanities for All grant.
Snyder and Stevens see themselves as role models for LGBTQ native youth, noting the high suicide rate among their peers. In a December 2017 interview with People magazine, Stevens remarked, "Powwows are not normally something people do as a same-sex couple."
The two grew up on the powwow circuit and met each other at a powwow. Snyder stated, "In the dance arena we have found an outlet for our self-expression." Stevens added, "I want people, young and old, to see that LGBTQ people already exist in the arena." They are making progress. In February 2018, Snyder and Stevens placed second in the Sweetheart's Special category at the Seminole Tribal Fair and Powwow in Florida.
Joining Snyder and Stevens as Red Talks speakers are Keya Clairmont (enrolled member of Taos Pueblo) who will discuss "Emphasizing Traditional Culture through Contemporary Expression" and Durrell Cooper III (Apache Tribe of Oklahoma) who will talk about "Facing Adversity through Adaptive Leadership." Attorney and University of Kansas alum Becky Howlett will speak on "Representing Indigenous: A Focus on Tribal Governmental Priorities during the Trump Administration." Professional powwow emcee Ruben Littlehead, Sr. (Northern Cheyenne) will give a presentation titled "They Fear Those That Can Talk Loud."
Project director Freddy Gipp (Apache Tribe of Oklahoma) explained that the Young Professionals Powwow is unique for three reasons: (1) it takes place on a week day, as opposed to a weekend; (2) it is only for young professionals age 18–35; and (3) it includes a trade show and convention. Gipp, 26, noted, "Our main goal is to help increase the visibility of young, aspiring Indigenous people and give them an opportunity to grow, develop, and become self-sufficient."
Join the Movement of Ideas
Gallery

View