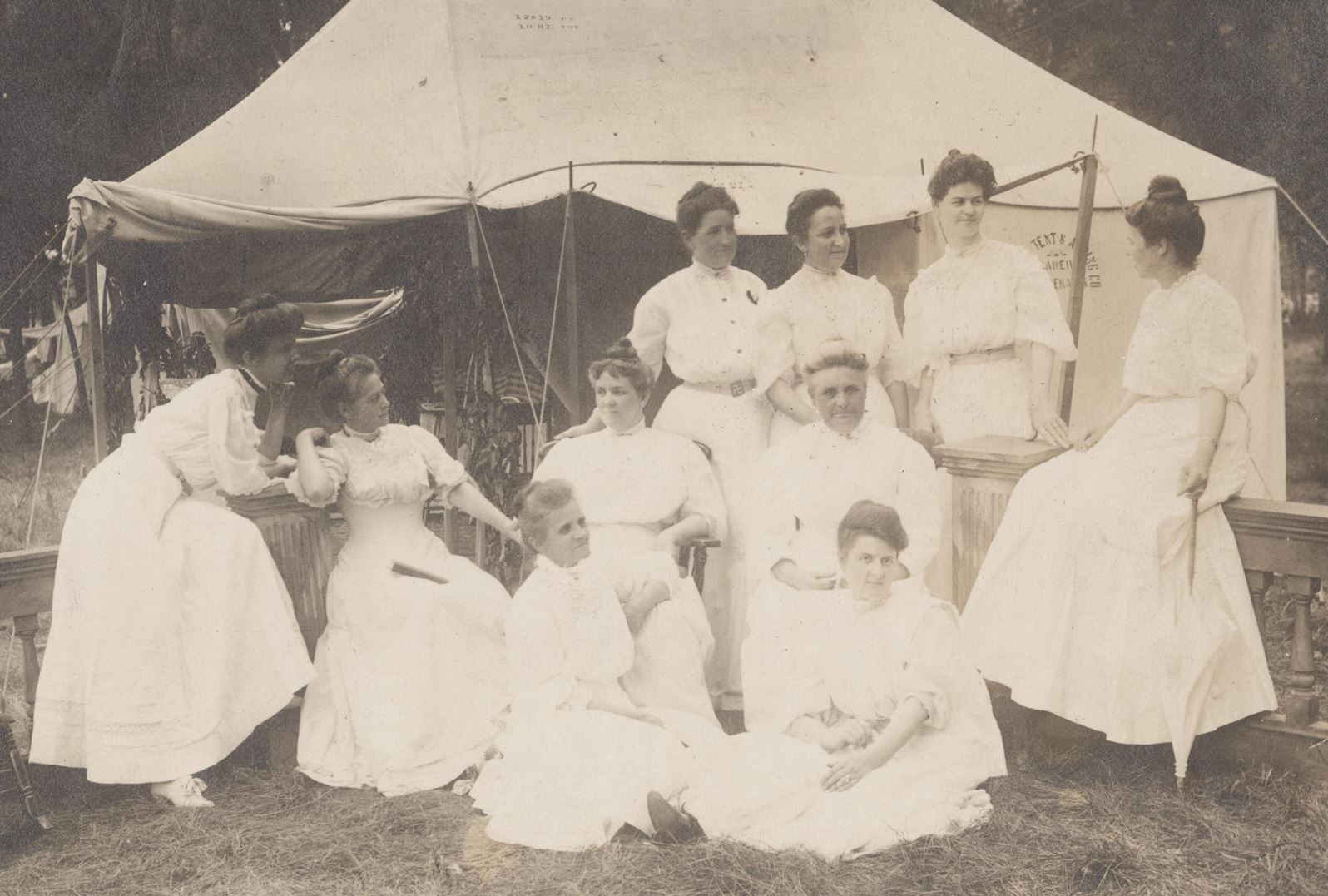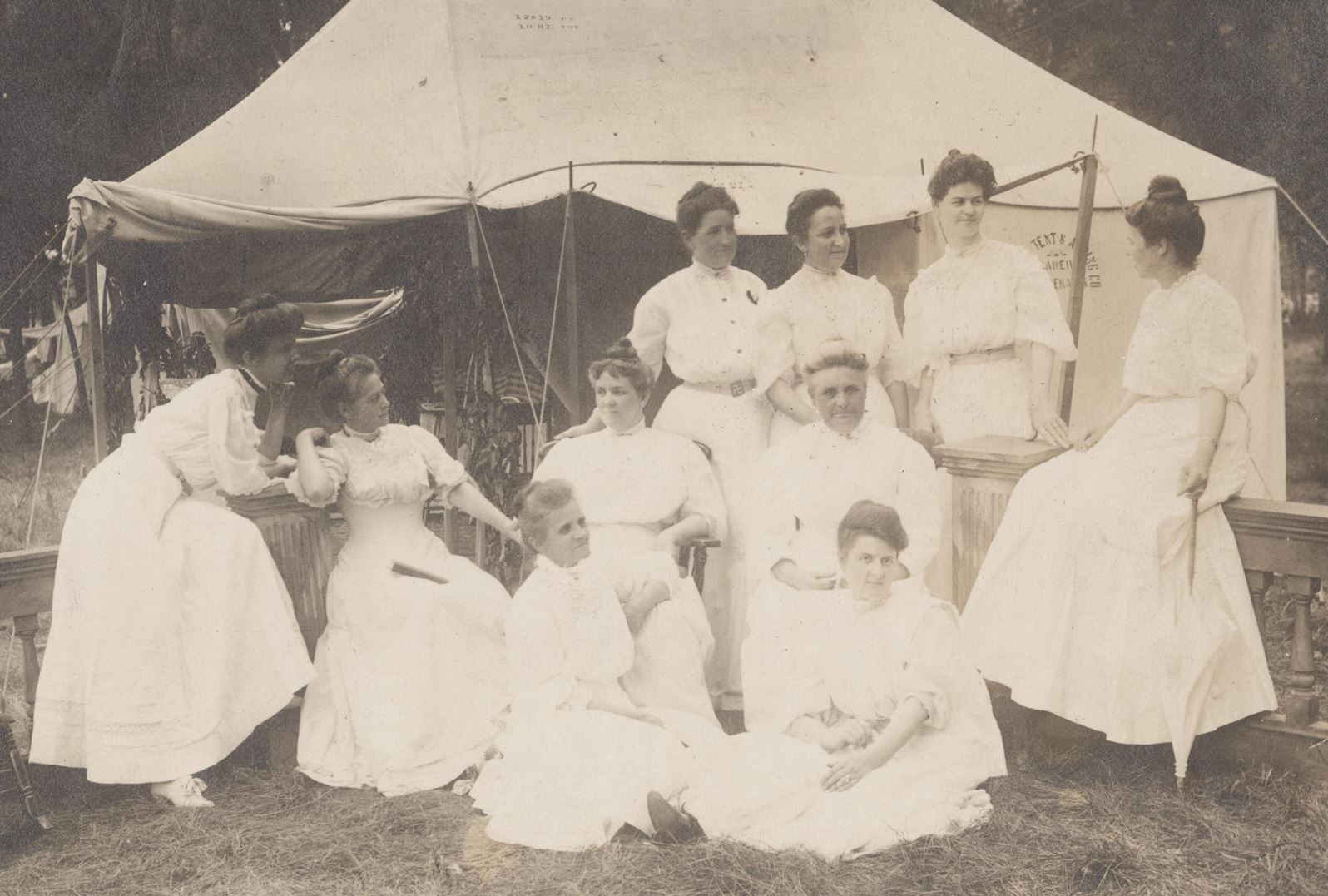 Speaking Out: Women Speakers at the Chautauqua
June 7, 2019
By Sarah Bell, HK Speakers Bureau scholar
During the late nineteenth century, women challenged social, educational, and political systems that limited or excluded their participation in civic engagement. These efforts were stymied by the fact that women were often excluded from speaking in public forums.
Even John Vincent, Chautauqua founder and proponent for women's education, agreed with this belief about women speakers. When he started the Chautauqua in western New York in 1874, Vincent wanted women to come and learn, but he did not want them lecturing from the platform.
The Chautauqua was a cultural educational movement consisting of annual summer assemblies for the white middle class. After the success of the Chautauqua in New York, other towns started their own assemblies and the movement expanded across the United States during the late nineteenth and early twentieth centuries. Kansas was one of the first states to host a Chautauqua assembly, and Ottawa, Kansas, held an assembly from 1883 to 1914.
The Chautauqua was not only for women, but they were the primary audience and over time, calls from women for representation on the platform grew. Frances Willard, a leader in the Woman's Christian Temperance Union, was the first woman to speak from the platform in 1876.
Vincent was conflicted about Willard because he was an avid prohibitionist, and he believed women had a moral authority when it came to temperance. For Vincent, that moral authority did not equate to women speaking in public, but Willard used Vincent's support for temperance as her justification for speaking on the platform. Other women quickly followed at Chautauqua, lecturing on temperance, literature, religion, and other topics.
One topic Vincent did not allow women to speak on, however, was woman suffrage. He believed the topic was too radical and he did not support women's political equality. Temperance was acceptable because the WCTU emphasized protection of the home.
Women successfully turned the Chautauqua into an institution that supported woman suffrage and discussions of political equality.
Despite Vincent's reluctance, women pushed for and finally succeeded in getting suffrage on the platform. In 1891, the New York Chautauqua hosted their first Woman's Day, with the entire afternoon devoted to discussing woman suffrage. The Chautauqua's large auditorium was decorated with white and yellow bunting to celebrate the occasion, and every woman in attendance wore a yellow ribbon.
Yellow was worn to represent the "Sunflower State" of Kansas, the first state to grant municipal suffrage to women in 1887.
Other assemblies quickly followed New York's example to support women's political equality. The Ottawa Chautauqua hosted three suffrage conferences between 1892 and 1894 to generate support for the 1894 campaign for woman suffrage. National suffrage leaders Susan B. Anthony, Anna Howard Shaw, and Carrie Chapman Catt all lectured from Ottawa's platform.
The Chautauqua's support for woman suffrage continued through the end of the nineteenth century and into the twentieth. Women successfully turned the Chautauqua into an institution that supported woman suffrage and discussions of political equality. As a result, suffragists got their message in front of a large audience, and a new generation of women developed public speaking skills through lecturing on the Chautauqua platform.
Join the Movement of Ideas
Click to book Sarah Bell's talk, "A Congress for Women: Women's Clubs and the Chautauqua Movement."