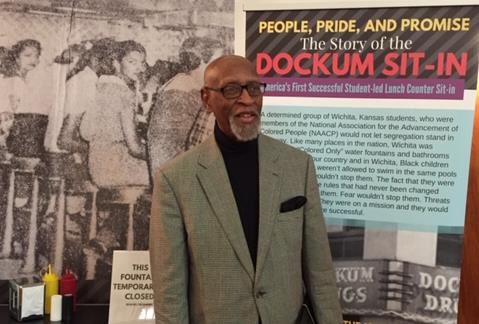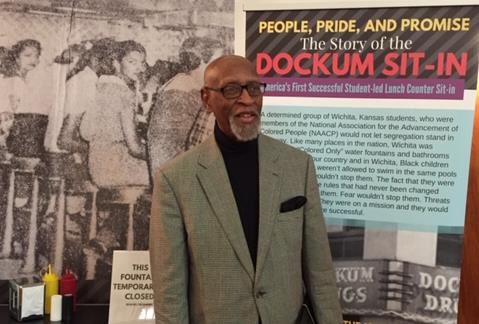 Meet Galyn Vesey
June 26, 2019
What's your Kansas story?
My Kansas story began 82 years ago (May 25, 1937) in the front bedroom of a house located at 1045 Mathewson Street in Wichita, Kansas. By the time I was age 4 or 5, I remember my birthplace as being "cozy and handsome." The reason I was born in a residential location is that during this period of Wichita's history most, if not all Black childbirths, took place in private settings.* Long before I knew the meaning and evil of racism, racial discrimination had encircled my very existence, growth, and development. Nonetheless, even racism could not overcome the Love of Justice, Humanity, and Service within the Black community over the years and even today. Black individuals, families, and organizations within the Black community have demonstrated the preceding statement in remarkable ways.
After my dad was drafted in World War II, my mother would travel from Wichita to the military base where he was stationed. She would board a train in Wichita but between Oklahoma and Texas all Black passengers were ordered to leave the car they were in and re-board another car designated solely for Black passengers.
Because my maternal grandmother was unable to walk more than short distances, a Black youth who was employed in a neighborhood grocery store would stop by her house if she needed any items from the store.
Because of unemployment in the Black community, or family disruption during the war years (1941-1945) (my mother did day work for white families for a number of years), it was frequently necessary for my mother and I to move back and forth between Wichita and my paternal grandparents' home in El Dorado, Kansas.
Black businesses and services in the Black community were not only necessary in Wichita -- they were also thriving during the early years. This was true in part because of the lack of white owned businesses within the Black community. Black owned or operated businesses between 1940-1960 included: grocery stores, drugstores, cab service, medical doctors, dentists, attorneys, bail bond services, various repair and cleaning services, ice delivery, morticians, beauty/barber shops, auto repair and sales, restaurants and food stands, hotels and rental properties, etc.; in addition, there were numerous churches, schools, and organizations such as the YWCA, YMCA, McKinley Park, and the Dunbar Theatre.
The importance of Black teachers and Black schools based within the Black community absolutely cannot be overstated. These three entities, together, served initially as an impetus for Black children to learn, grow, and succeed in life -- and this was followed later by serving humanity with both -- the Black and overall community.
As a youth growing up in Wichita, Kansas, and participation in many activities, I had to learn how to honor God, to serve humanity, and to stand up for justice. Whether participating in an all-Black Sunday school; swimming at an all-Black public park; surpervising Black and white athletes who played basketball at the Black YMCA; surpervising Black and white children who skated (separately) at the Black YMCA; or participating with Black and white youth in the Dockum sit-ins, ultimately it was Love of Justice, Humanity, and Service on behalf of all humankind that really mattered!
Lightning Round!
Would you ever agree to be on a TV or radio game show? If so, which one and why?
Yes, I would like to be on a TV or radio program similar to the one aired years ago by Oprah Winfrey. The purpose would be to introduce the region/nation to a book that I am writing about the Black experience in Wichita, Kansas: 1870-1970s.
What is your favorite book and why?
There are three. These books provide an important background for my proposed book publication:
Dissent in Wichita: The Civil Rights Movement in the Midwest by Gretchen C. Eick (2001).
The Race Myth: Why We Pretend Race Exists in America by J. L. Graves, Jr. (2004)
Slavery by Another Name: The Re-Enslavement of Black Americans from the Civil War to World War II by D. A. Blackmon (2008)
Name your top movie picks
Shane (1953)
Key Largo (1948)
Battleground (1949)
High Noon (1952)
*An example of an exception to the above emphasis follows here. My cousin was born in 1937 on September 1st in a Catholic hospital in Wichita. To avoid placing my aunt in the same hospital room with a white patient -- a makeshift room was set up in the hallway with white sheets for "privacy."