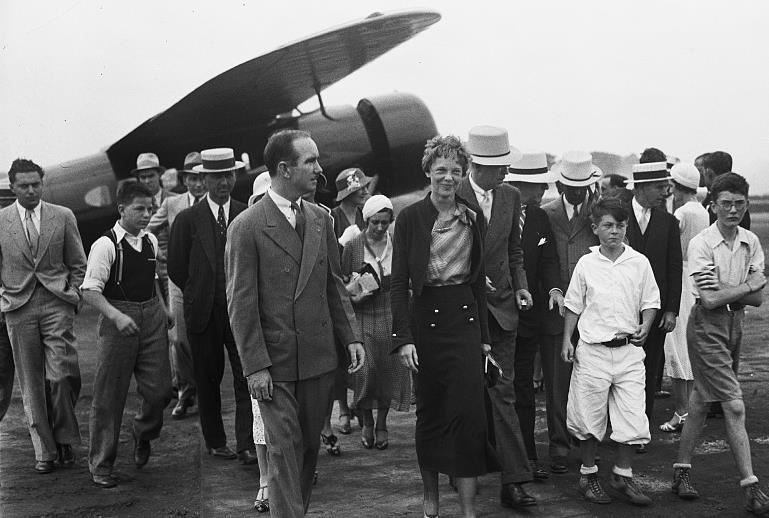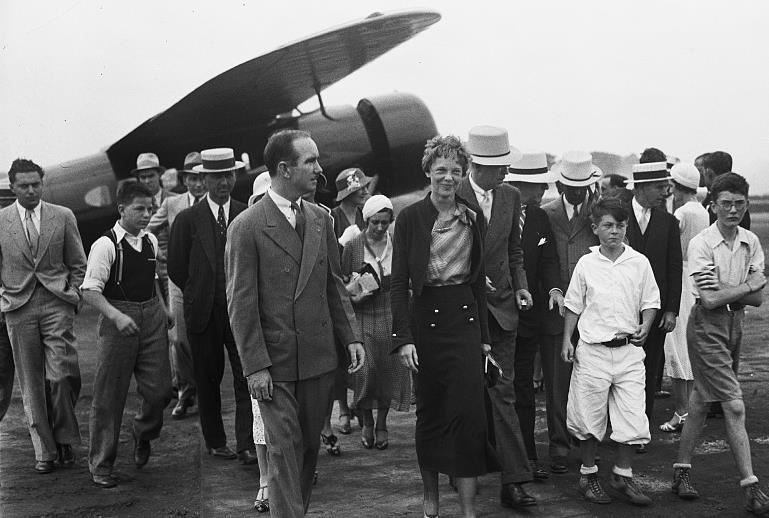 Famous Kansan Takes Flight
November 16, 2021
Influencer. Aviator. Record-Setter. Fashionista. Celebrity. Kansan. All these words describe the enigmatic Amelia Earhart whose early roots in Atchison equipped her for a life as one of America's most celebrated aviators. November is National Aviation History Month and a recently awarded Humanities Kansas Culture Preservation grant is preserving her legacy, so what better time to honor Amelia Earhart?
Amelia Earhart is an icon nationally and internationally, and most famous for her fatal attempt to be the first woman to fly around the world. Her plane mysteriously went down in 1937, and her body and plane were never recovered. While her untimely death often overshadows her legacy, she lived an unconventional life for a woman in the early 20th century and pushed many societal boundaries to become an admired role model, entrepreneur, and public figure.
Earhart's legacy takes off in the Amelia Earhart Hangar Museum in Atchison, a new museum opening in 2022. The centerpiece artifact is a Lockheed Electra 10-E aircraft – the same type aircraft that Earhart flew on her final, fateful flight. One of only 14 of the twin-engine planes were ever made, this last remining one was lovingly named Muriel after Earhart's younger sister Grace Muriel Earhart Morrissey.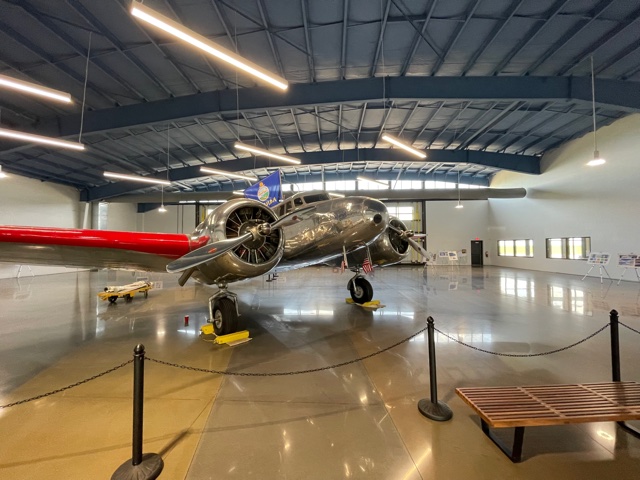 Also featured in the new museum will be textiles and items associated with Earhart's life including childhood projects and clothing worn in her adulthood. The items are on long-term loan from the Atchison County Historical Society, and the Hangar Museum received a Humanities Kansas Culture Preservation grant to safely store the artifacts and prepare them for future exhibition.
The museum's textiles and artifacts enhance the story of Earhart's early life in Kansas and her career as an internationally known aviator and fashion entrepreneur. A hand-sewn sampler made by Earhart helps to tell the story of her childhood in Atchison. Born in 1897, she embraced both adventure and fun in unconventional ways. Her mother encouraged Earhart and her sister Muriel to explore all that interested them, without limits. They played sports, hunted for rats, and even once built a makeshift rollercoaster. After lurching down the ride inside a wooden box, Earhart exclaimed, "It's just like flying!"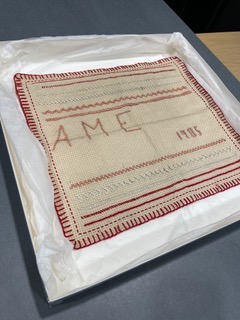 She embraced the world of aviation when flight was in its infancy, and women pilots were rare, completing her first solo flight in 1922. She set over ten flight records, including the first woman to fly solo and nonstop across the Atlantic Ocean in 1932 — second only to Charles Lindbergh. Earhart's accomplishments in aviation made her a worldwide sensation.
Earhart was a trailblazer for equality for women in aviation, pushing for separate female records as they did not have the same access to planes and financial resources as men. She helped established the Ninety-Nines, an organization dedicated to women pilots, and served as its first president. She was also a mechanic, author, and lecturer, and even worked as a volunteer nurse during World War I. She believed women should be independent to pursue their passions and dreams, and many considered her a role model.
Much like a social media influencer of today, Earhart took the world by storm. Her cutting-edge style landed her on Fashion Designers of America's Best Dressed List in 1934. Visitors to the Amelia Earhart Hangar Museum can view her style up close in a beaded ensemble that Earhart wore on a visit to Paris. She became the first celebrity fashion designer, creating a stylish line of luggage which was produced into the 1990s. Less financially successful was her full-scale clothing line, initially created on her own personal sewing machine. The line popularized ready-to-wear separates and were crafted with aviation inspired details.
The Amelia Earhart Hangar Museum at the Amelia Earhart Airport is open for scheduled tours of the Lockheed Electra as the full museum build-out is realized. A grand opening is scheduled for 2022. Tours can be scheduled by calling 913-372-0021. Visit https://ameliaearharthangarmuseum.org for more information.
Join the Movement of Ideas