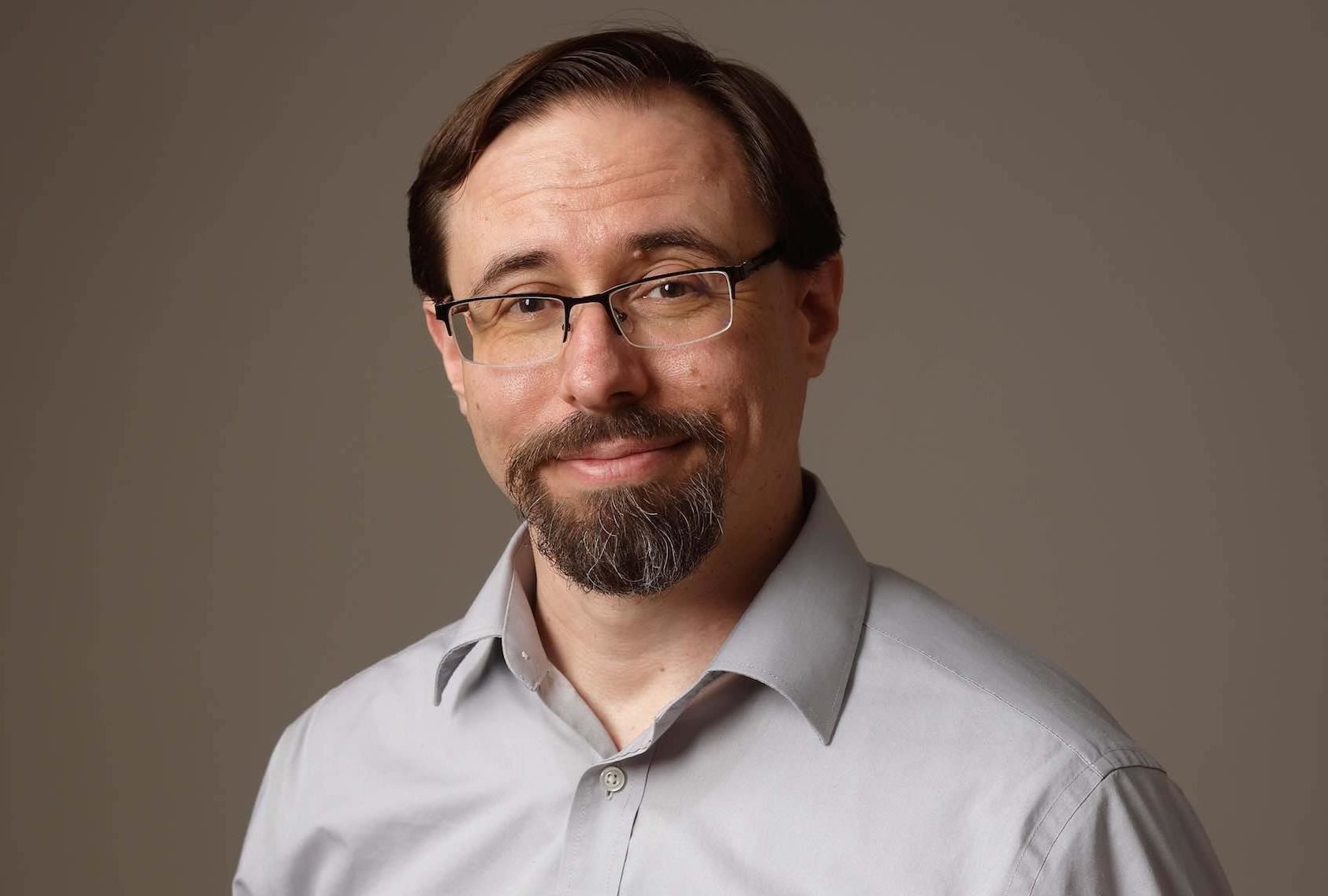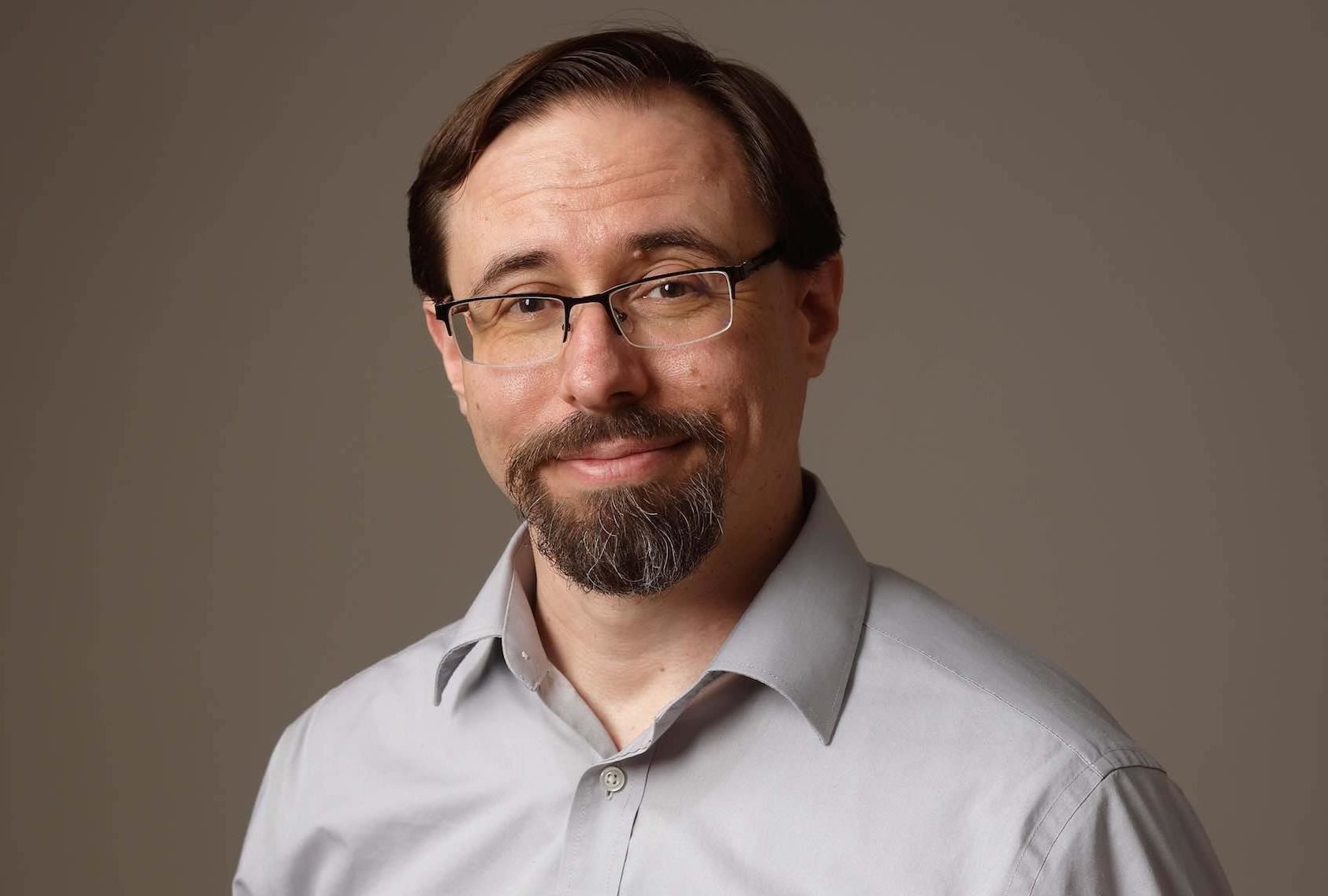 Poet Laureate
This Poet Laureate of KansasTM Kevin Rabas presented an original poem at the swearing-in ceremony of Laura Kelly, the 48th Governor of Kansas. "The poem," said Kevin Rabas, "is a celebration of all Kansans as well as a celebration of our state." Read Kevin's poem "Kansas, Awakening."
2017-2019 Poet Laureate of Kansas
The Poet Laureate of Kansas™ promotes the humanities as a public resource for all Kansans. Kevin Rabas presents readings and discussions about poetry in communities across the state.
Kevin is a poet, jazz musician, and professor who teaches poetry and playwriting at Emporia State University. He also chairs the Department of English, Modern Languages, and Journalism. His collection of poems, Lisa's Flying Electric Piano, was a Kansas Notable Book in 2010 and a winner of the Nelson Poetry Book Award. He is the winner of the Langston Hughes Award for Poetry, the Victor Contoski Poetry Award, and the Jerome Johanning Playwriting Award, among others. His most recent poetry collection, Songs for My Father: Poems & Stories, was published by Meadowlark in 2016.
Poet Laureate Presentation: Finding the Extraordinary in the Ordinary
Poetry can illuminate the path through our daily lives, revealing beauty in the mundane task and objects that we often overlook. As poet Naomi Shihab Nye observed, "Poetry helps us to see something worth seeing everywhere, whether inside or outside of us." Emotions triggered by everyday items — the memory of a lost mother, or the anxiety that comes with hope — often go unseen but are given voice through poems that span continents and generations. As Kansans, most of us can appreciate memories connected to limestone postrock, birdhouses, soap dishes, soup bowls, and sunlight. With words and music, this presentation will uplift our daily experiences by exploring what poet Pablo Neruda called "odes to ordinary things."
How to Bring the Poet Laureate of Kansas to Your Community
Kevin Rabas is available free-of-charge to Kansas nonprofit organizations. All events must be:
designed as a special event for adults
out-of-school audiences at a time that allows a large public turnout
free and open to the public

1. Contact Kevin and confirm time, date, and location: krabas@emporia.edu
2. Immediately apply for funding through the Speakers Bureau process. (Please note: Completed applications, including the DUNS number, must be submitted six weeks before the event date to be considered for funding. HK is not able to fund applications that do not meet this requirement.)
3. Coming Soon: Publicize your event. Download a press release, speaker bio, and HK logo poster.
4. Tell us how it went. After the event, download and fill out a Poet Laureate evaluation and email them to Abigail Kaup: abigail@humanitieskansas.org.
Contact Abigail Kaup at abigail@humanitieskansas.org or (785) 357-0359 for more information.
Poems
Poet Laureate of Kansas Sponsors
Support for the Poet Laureate of Kansas position depends exclusively on individual, corporate, and foundation gifts. No state or federal funds are used in support of the program. Thank you to all who make the Poet Laureate of Kansas program available as a resource for all Kansans.
Poets Laureate of Kansas (2005-2019)