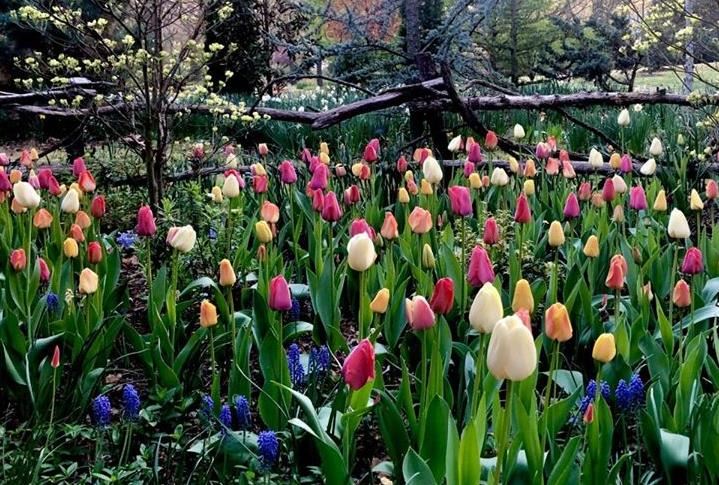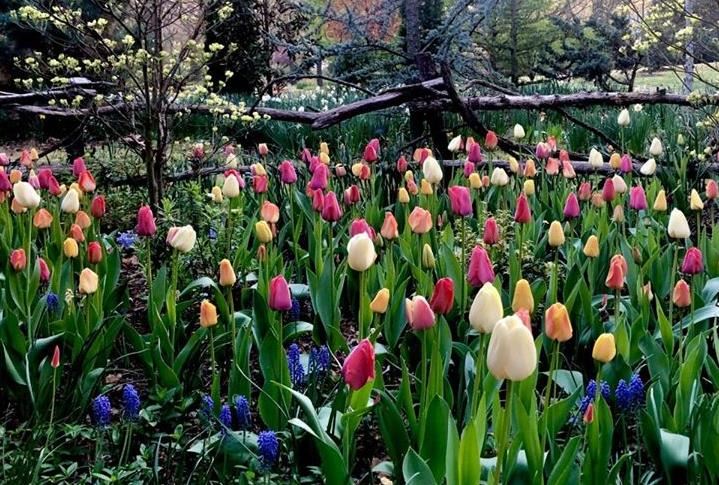 On the (Virtual) Road Again
May 21, 2020
Movement of Ideas Kits are back with a curated list of humanities activities to keep you engaged at home. Since we shared our last virtual road trip back in March, Kansans have been busy creating lots of opportunities for you to experience more virtual visits with the support of HK Quick Grants. So, "buckle up," grab a snack, and take to the virtual highway for another Kansas road trip from your couch.
First Stop: Tulips, Trees, and History at the Bartlett Arboretum in Belle Plaine
Take a stroll through the vibrant tulips and lush trees of the Bartlett Arboretum in Belle Plaine in the short film series "Beauty in a Broken World," produced by Bartlett Arboretum and filmmaker Jaime Green.
Watch Beauty in a Broken World: Part 1 & Part 2: Paradox in a Pandemic
Take a meditative stroll through the arboretum with steward Robin Macy and learn how the loss of a Bartlett family member in the Spanish Flu Pandemic led to a lasting legacy at the arboretum.
Be a Story Chaser: Show Us Your Gardens
Have you been gardening while at home this spring? In what ways has gardening helped you during this time of social distancing? Share a micro-story and a photo of your garden on Story Chasers, HK's Instagram initiative.
Next Stop: Rocky Takes You on a Tour of the Salt Mines in Hutchinson
Our next stop takes you 650 feet underground to Strataca the Kansas Underground Salt Museum in Hutchinson. There, you'll join Rocky, your virtual tour guide through the salt tunnels. Underground salt mining in Hutchinson dates back to 1923 with the opening of the Carey Salt Mine, but the salt deposits go back 275 million years to the Permian Period. What wonders of the salt mine will Rocky show you? Grab a salty pretzel or a bowl of popcorn and take the latest tour.
Tour #3: Rocky's Powder Adventure
Rocky introduces you to the salt mine's powder machine and – spoiler alert – it's a real blast! Check out Rocky's tour on YouTube.
Bonus: Watch this segment on the Hutchinson Salt Co. on a 2013 episode of "Dirty Jobs."
Final Stop: Visit the Quindaro Neighborhood in Kansas City
Our final stop takes us northeast to Quindaro, a river boom town from the 19th century that was a melting pot of culture established in the years before the Civil War. This community opened the first school for Black children so that freed slaves could get an education, which additionally led to the founding of Western University, a Black college. However, as the century has passed development projects, like the construction of I-635 around Kansas City, physically split the town and the tight-knit community of Quindaro. The Quindaro ruins were designated as a National Historic Landmark in 2019.
This short film was produced by the Northeast Cooperative Council, Inc., and filmmaker Jefferson Edward Donald with the support of an HK Humanities for All Grant.
Dial-a-Speaker
Join Rex Buchanan for a tour of petroglyphs – rock carvings on sandstone made by native people of the plains – in central Kansas. Dial-a-Speaker is your opportunity to engage with ideas and stories over the phone or via Zoom with a mini-presentation by a member of HK's Speakers Bureau. Contact Abigail Kaup at abigail@humanitieskansas.org to set up your Dial-a-Speaker today.
Stay Connected. Share your stories with HK on social media at @humanitieskansas (Facebook and Instagram) and @humanitiesks (Twitter). Be sure to use the hashtag @movementofideas.