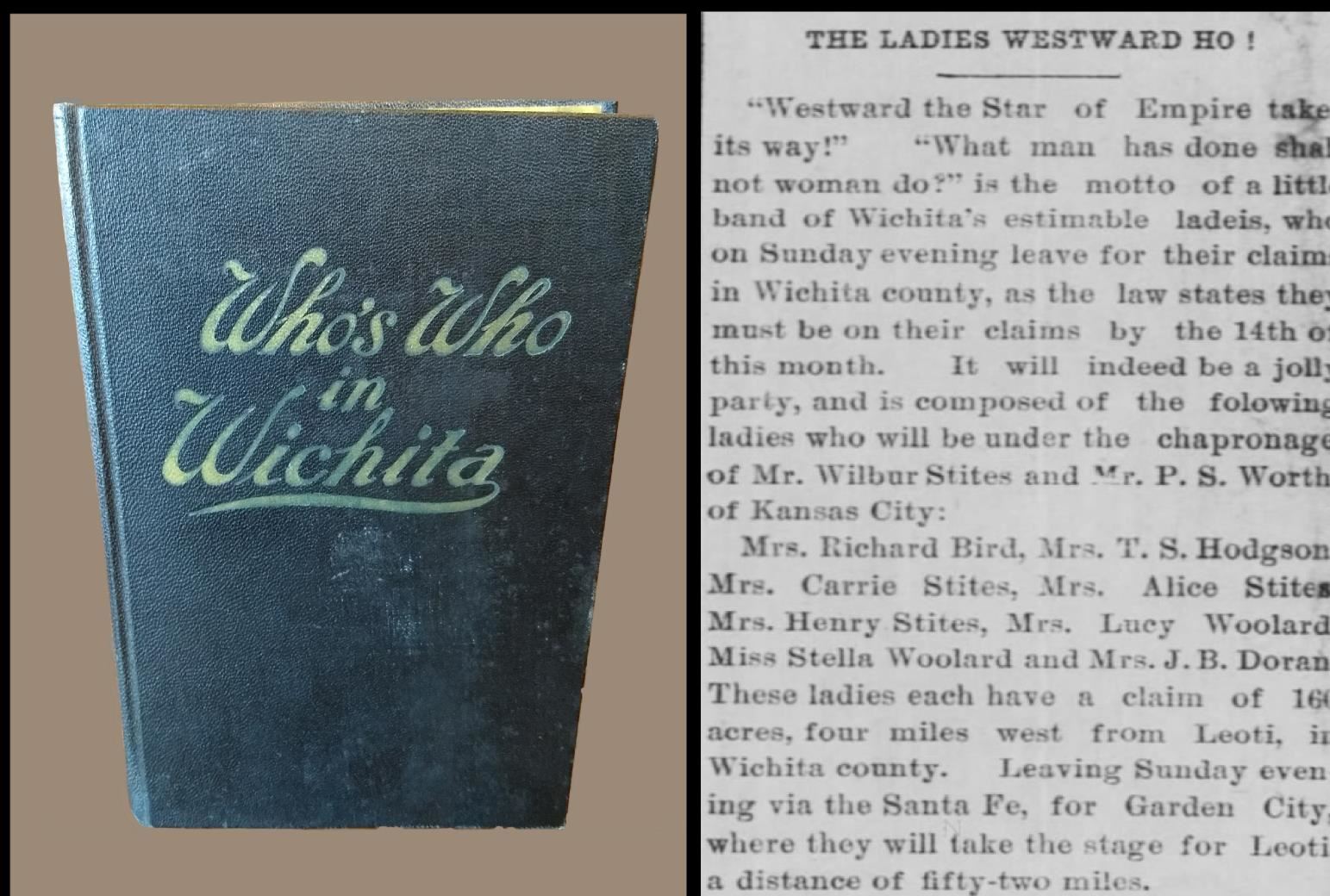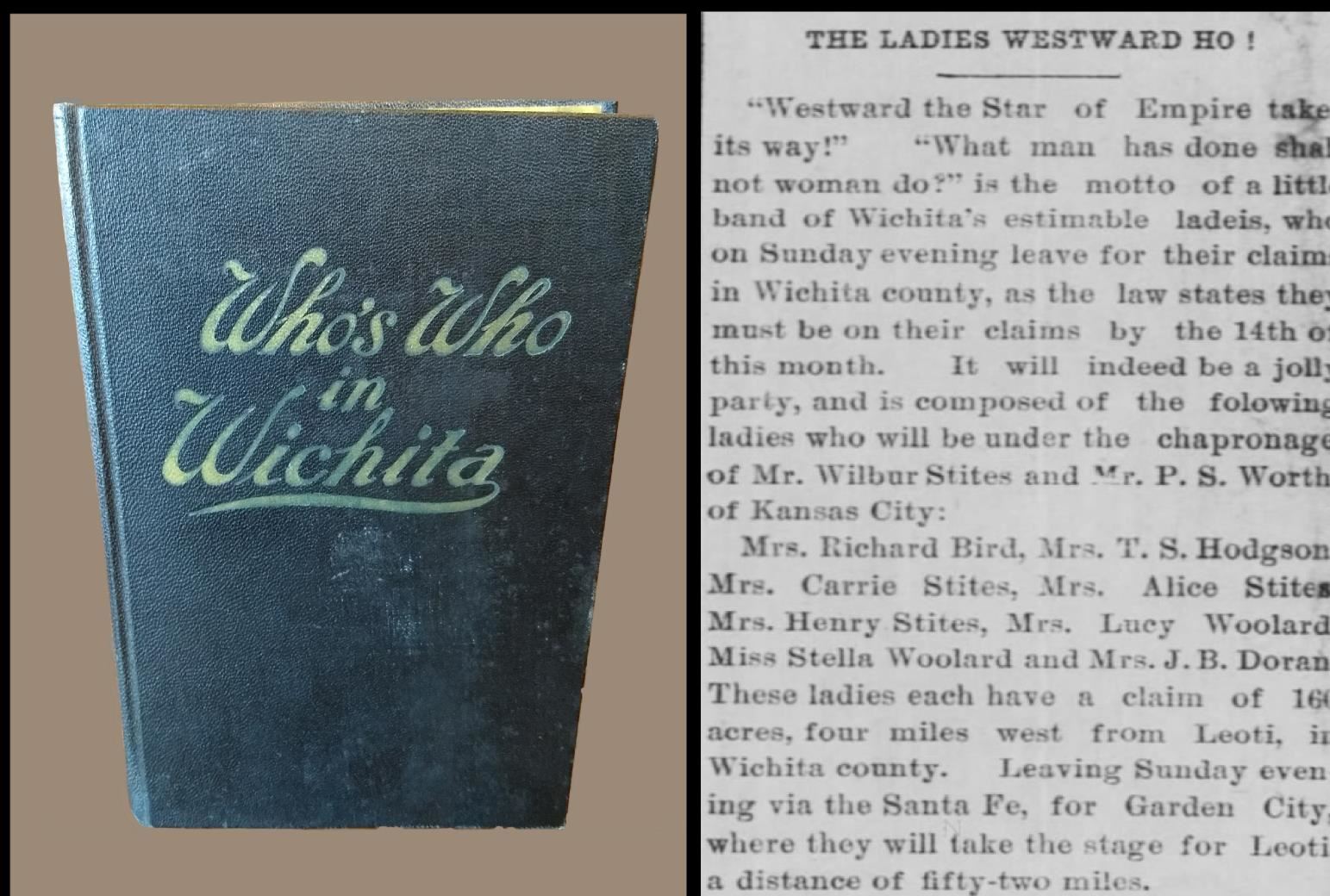 "Ladies Westward Ho": "History from Home" with the Museum of World Treasures
July 17, 2020
My twin great, great, great, great aunts Alice and Carrie Stites, six other Wichita women, two men, and three children set forth on April 8, 1886, to stake their claims on 160 acres of land in Leoti of western Kansas. Their "jolly party" carried with them everything they would need including "several Winchester, revolvers, and knives...cows to furnish milk and butter" and many more trunks full of supplies. The 1929 Who's Who in Wichita book is a link to the storied and feisty Stites sisters.
When the Museum of World Treasures in Wichita was forced to close its doors earlier this year due to the COVID-19 pandemic, Kristin Martin, the Museum's Program Director, started imagining new possibilities for connecting homebound Kansans with the wealth of history within their own reach.
Drawing inspiration from a project created by the Western Heritage Center in Billings, Montana, in which community members were asked to submit images of arts and craft projects they had created while quarantined, Martin asked Kansans to submit images of heirlooms, keepsakes, and old documents found in their own homes that encapsulated stories about their lives and histories. "We weren't sure what we'd get," said Martin, in a phone interview, "but we were amazed by what came in."
Working closely with the Museum's Exhibitions Specialist, Briana Winter, Martin developed an online exhibit called "History from Home" that showcased stories and images submitted in three main categories—Military Histories, Family Stories, and Creative Collections. Submitted keepsakes included a "Bubble Bank" used to save money to purchase war bonds during World War II, a Macedonian wedding dress from 1968, and a 2002 World Series Garrett Anderson bobble head doll, and the accompanying stories highlight the wide diversity of Kansas residents' histories and memories, hopes and dreams.
"Personally," confided Martin, "my favorite submission featured an article from the April 8th, 1886, edition of The Wichita Daily Beacon, entitled 'Ladies Westward Ho,' that a Wichita resident submitted about her great, great, great, great aunts." The article tells the story of Alice and Carrie Stites, twin sisters who staked their claim to 160 acres of land four miles west of Leoti, Kansas; built their reputations as "rabble-rousers" by "selling alcohol and running a 'disorderly house'" at the age of 60; and got their names listed in the 1929 edition of Who's Who in Wichita. How's that for pioneer spirit!?
"We weren't sure what we'd get, but we were amazed by what came in."
"Our museum's job is to collect stories," said Martin. "We were excited about this project because it inspired people to rediscover some of the stories that they have around the house in things that were handed down from previous generations and to share them with the larger community."
Now, with businesses across the state reopening, the Museum of World Treasures has taken precautions to ensure that people can safely venture outside of their homes to explore the Museum's impressive holdings of artifacts from the Cenozoic Era all the way up to the fall of the Berlin Wall, but the virtual "History from Home" exhibit is still on their website.
"'History from Home' showed us that by collecting stories from our community, we can continue our mission no matter what," said Martin. "Even if we have to close our doors again."
"History from Home" was funded by a Humanities Kansas Quick Grant. Quick Grants are designed to support projects that engage the public with the humanities in innovative ways when gatherings in person are impossible. Quick Grants in the amounts of $500-$1,000 are available through Humanities Kansas until August 1st. For details about Quick Grants, contact Leslie VonHolten, Director of Grants and Outreach, or visit the Quick Grants page.