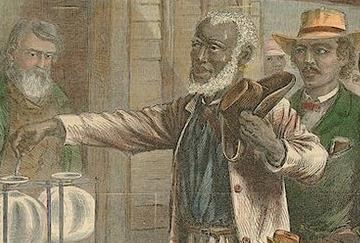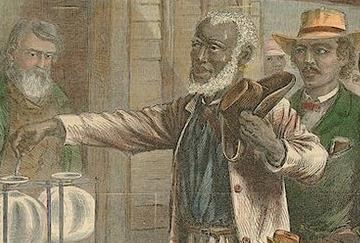 The Art of Voting
Call for Exhibit Hosts
Deadline: November 17, 2020
Humanities Kansas is pleased to announce The Art of Voting, a pop-up exhibition exploring the 15th Amendment. Based on an original exhibition created by the Watkins Museum of History in Lawrence, The Art of Voting is designed to inform Kansans about the history of electoral engagement and the right to vote. Humanities Kansas is seeking six organizations to host the pop-up exhibition from January - February 2021.
The application period is closed.
Background
2020 was a benchmark year for voting anniversaries: The 150th anniversary of the 15th Amendment and the 100th anniversary of the ratification of the 19th Amendment.
The 15th Amendment prohibited the denial of citizens the right to vote based on "race, color, or previous conditions of servitude" and while the amendment extended suffrage to African American men, those who sought to deny the right to vote created new barriers. Fifty years later, the 19th Amendment added women to those who could vote, but only those who were white. Throughout the 20th century, the struggle for equal justice and voting rights continued and still remains relevant today. Although this exhibit primarily explores the 15th Amendment, a companion brochure includes additional right to vote information. Modest in size, The Art of Voting exhibition provides an opportunity for thoughtful reflection on who gets the vote and how those rights came to be.
Watch a "FREE History" presentation about the 15th Amendment to learn more:
Who can apply?
Nonprofit cultural organizations in Kansas whose audience includes an out-of-school adult audience. The exhibit must be open to the general public from January 1 - February 28, 2021, be available for viewing free-of-charge, and placed in a safe location. Museums, libraries, historical societies, and others in the cultural sector are encouraged to apply.
How to Apply
Please review the application and answer the questions in a separate document and submit as a PDF to Julie Mulvihill at julie@humanitieskansas.org by 5:00 pm on November 17, 2020. This will be a competitive application process.
The Art of Voting pop-up exhibition was funded by the "Why it Matters: Civic and Electoral Participation" initiative, administered by the Federation of State Humanities Councils and funded by the Andrew W. Mellon Foundation.