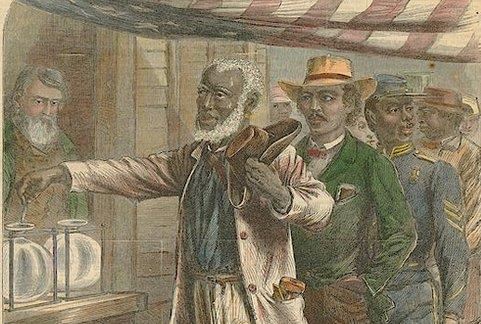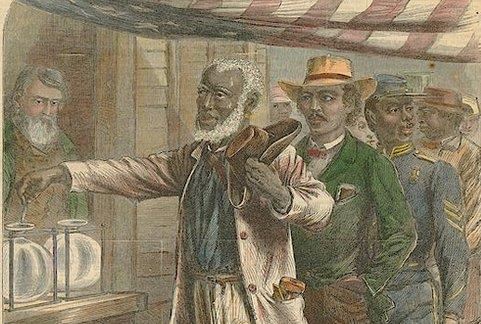 The Art of Voting
​"Maybe all of us would value the right of suffrage more if we stopped ​to look​ back a moment at what the struggle for the vote has ​cost."​​
The Ballot and Me, Langston Hughes, 1956
The Art of Voting is a pop-up exhibition exploring the 15th Amendment after 150 years. Based on an original exhibition created by the Watkins Museum of History in Lawrence, The Art of Voting is designed to inform Kansans about the history of electoral engagement and the right to vote, focusing primarily on when voting rights were extended to African Americans.
In 1776, Thomas Jefferson wrote in the Declaration of Independence, "Governments are instituted among men, deriving their just powers from the consent of the governed." Voting is the tool the US citizenry uses to demonstrate consent. Originally, decisions about who could vote up were left to the states, but the Constitution included a caveat: "The Congress may at any time make or alter such regulations." Since 1766, the United States has struggled over who should have the right to vote and how to ensure that the vote really does represent the voice of all American people.
The first change that expanded the right to vote beyond property-holding white men aged 21 and older came after the Civil War with the passage of the 15th Amendment prohibiting the ​​denial of citizens the right to​ vote based on "race, color, or previous conditions of servitude."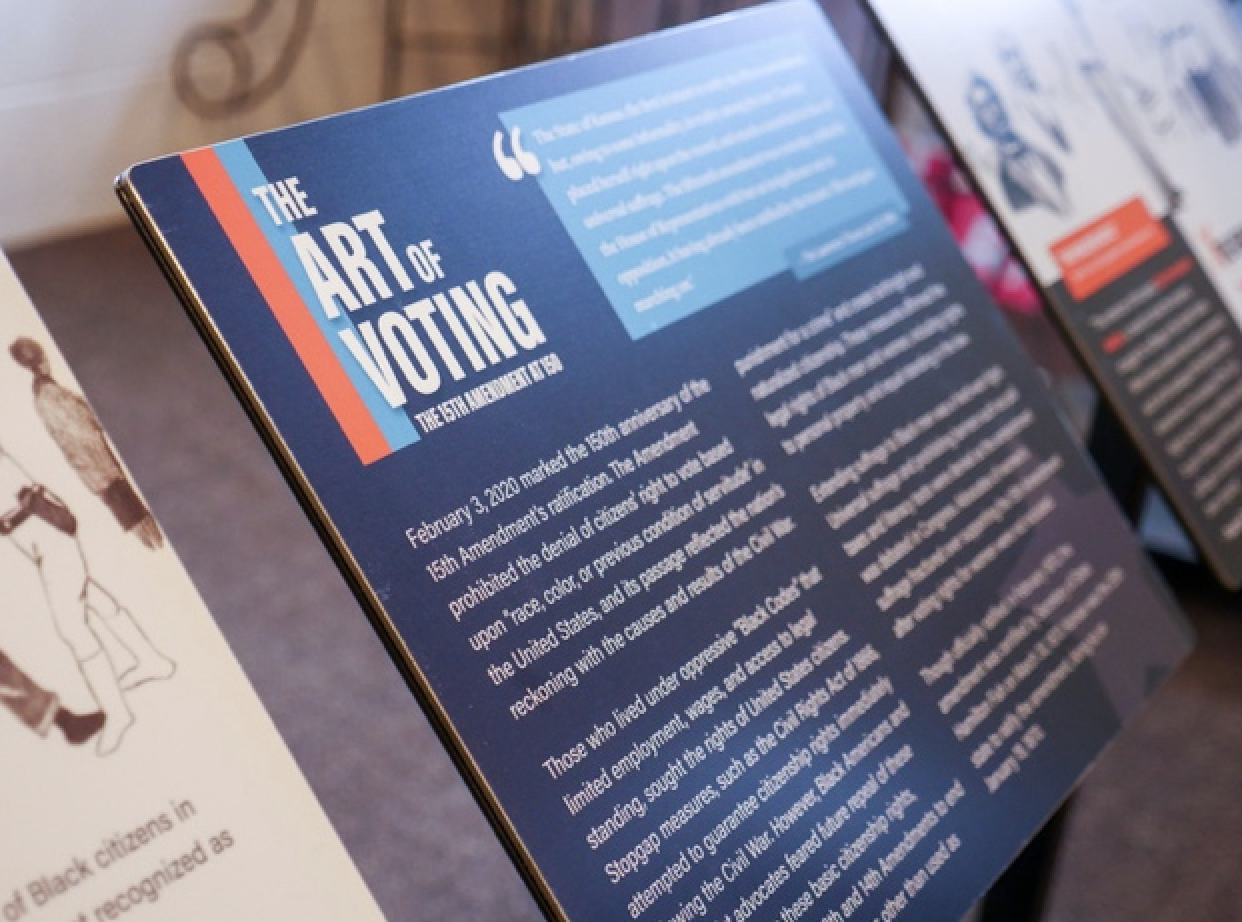 ​
​​​​​Fifty years later, the​ 19th Amendment added women ​​​to ​those who could vote, but only those ​who were white. For the next 45 years, the struggle for equal justice and voting rights​ ​​continued w​ith Congress passing the Indian Citizenship Act, the Nationality Act, the Civil ​Rights Act, the​ 24th Amendment, and the Voting Rights Act. It's clear the right to vote​ remains our nation's most important right.
​Using original artwork contributed by Lawrence artists to enhance the topic, The A​rt of Voting exhibition provides an ​opportunity for thought​ful reflection on who has the right to vote and how those rights came to be.
The Art of Voting exhibition will be on display at these locations:
Please contact the local organizations for specific times, locations, and safety protocols.
Watch a "FREE History" presentation about the 15th Amendment to learn more:
This exhibit was developed by Humanities Kansas in partnership with the Watkins Museum of History, Lawrence, Kansas and was funded by the "Why it Matters: Civic and Electoral Participation" initiative, administered by the Federation of State Humanities Councils and funded by the Andrew W. Mellon Foundation.