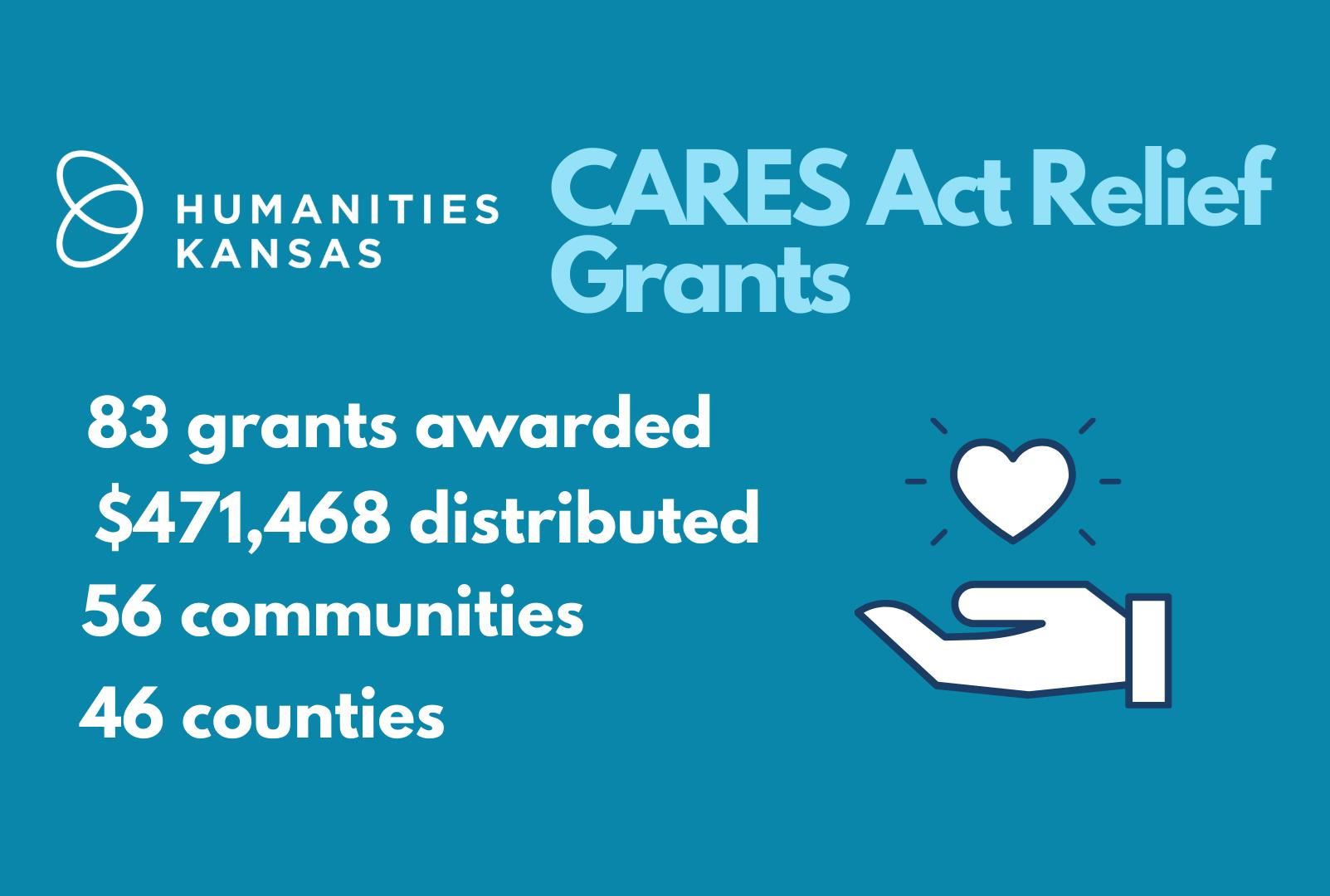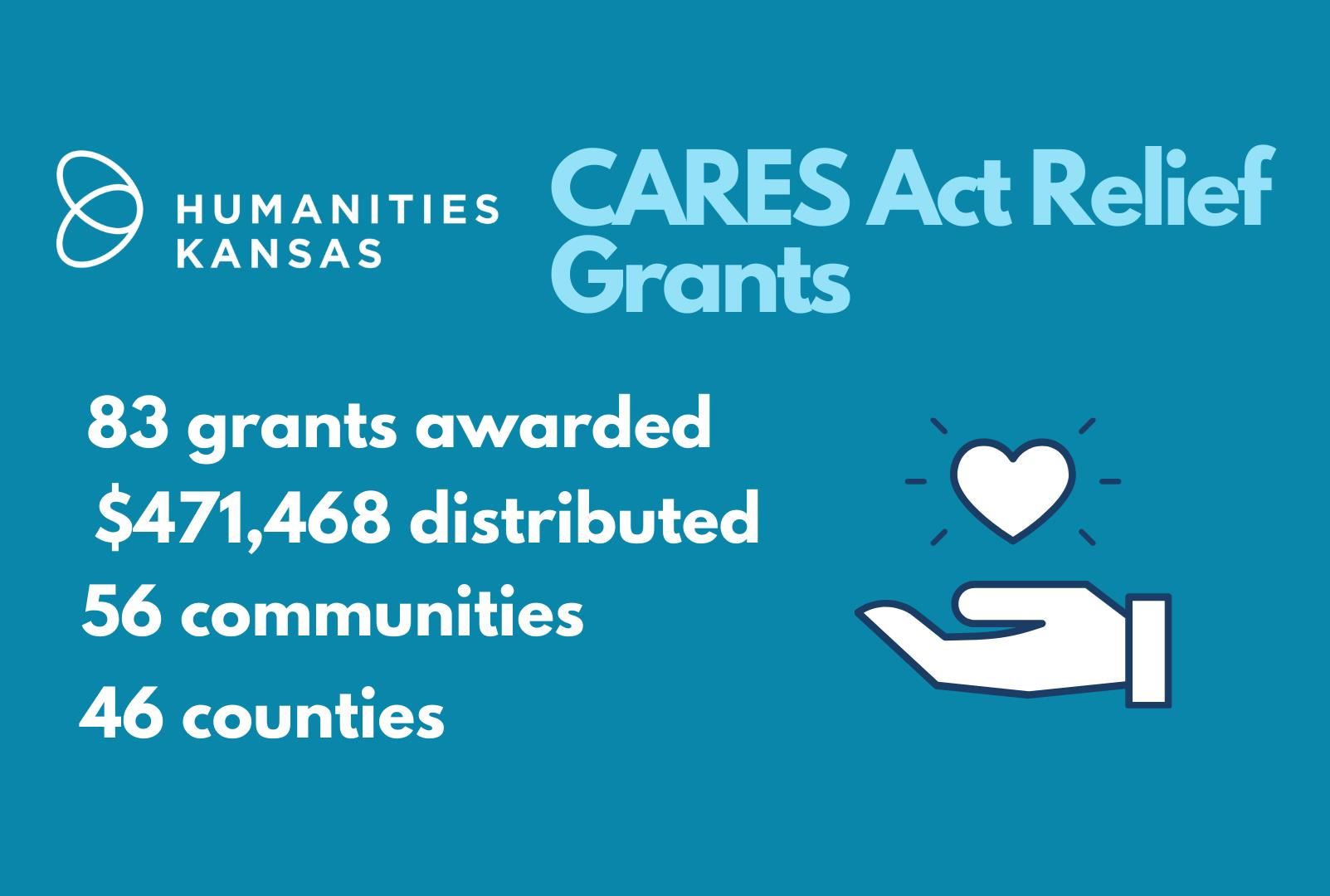 CARES Act Grant Recipients
Humanities Kansas Awards 83 CARES Act Relief Grants
Humanities Kansas recently awarded $471,468 in CARES Act Relief Grants to 83 Kansas cultural organizations experiencing distress due to the COVID-19 pandemic.
Funding for these grants was provided by the National Endowment for the Humanities (NEH) as part of the Coronavirus Aid, Relief and Economic Security (CARES) Act economic stabilization plan. Funds awarded provide emergency general operating support and staff retention in the humanities and cultural nonprofit sector.
Humanities Kansas received $471,468 in funds to distribute and received more than $1 million in requests from Kansas cultural organizations.
"HK is pleased to offer these CARES Act grants to community cultural organizations across the state," said Jason Wesco, chair of the Humanities Kansas Board of Directors. "The value of these organizations as repositories of local memory and as vehicles to connect us – virtually or in-person – is critical to the strength and culture of our communities. We wish these grantees and all cultural organizations in our great state the very best. Ad Astra per Aspera."
Awards represent 83 organizations across 56 communities and 46 counties:
Abilene Public Library
Amelia Earhart Birthplace Museum - Atchison
Ashland Library
Atchison Amelia Earhart Foundation
Atchison Public Library
Bonner Springs City Library
Boot Hill Museum – Dodge City
Brown County Historical Society – Hiawatha
Caldwell Public Library
Cimarron City Library
Coffeyville Historical Society
Coffeyville Public Library
Dickinson County Historical Society – Abilene
Dorothy Bramlage Public Library – Junction City
Douglas County Historical Society/Watkins Museum of History – Lawrence
Dyck Arboretum of the Plains – Hesston
Edwards County Museum – Kinsley
Effingham Community Library
Eisenhower Foundation – Abilene
Emmett Kelly Historical Museum – Sedan
Emporia Public Library
Eudora Area Historical Society
Finney County Historical Society – Garden City
Flint Hills Discovery Center Foundation – Manhattan
Florence Historical Society
Ford County Historical Society - Dodge City
Fort Larned Historical Society - Larned
Fort Wallace Memorial Association – Wallace
Franklin County Historical Society – Ottawa
Freedom's Frontier National Heritage Area – Lawrence
Gardner Historical Museum
Goddard Public Library
Haskell Indian Nations University Foundation – Lawrence
Hays Public Library
Hesston Public Library
Horton Public Library
Hutchinson Art Center
Independence Public Library
Jackson County Historical and Genealogical Society – Holton
Kansas African American Museum – Wichita
Kansas Aviation Museum – Wichita
Kansas Barbed Wire Collectors Association – La Crosse
Kansas Cosmosphere and Space Center - Hutchinson
Kansas Historical Foundation – Topeka
Kansas Post Rock Limestone Coalition – Lucas
Kauffman Museum – North Newton
Kingman County Historical Society – Kingman
KMUW – Wichita
Lawrence Public Library Friends & Foundation
Lebanon Community Library
Linwood Community Library
Little House on the Prairie Museum – Independence
Lyon County History Center – Emporia
Mahaffie Stagecoach Stop & Farm – Olathe
mamafilm – Wichita
Martin & Osa Johnson Safari Museum – Chanute
Mary Cotton Public Library – Sabetha
Mid-America All-Indian Center – Wichita
MidAmerica Nazarene University – Olathe
Miners Hall Museum – Franklin
Monticello Community Historical Society
Museum of World Treasures – Wichita
National Orphan Train Complex – Concordia
Onaga Historical Society and Museum
Ottawa Library
Pony Express Museum – Marysville
Reno County Historical Society – Hutchinson
Republic County Historical Society Museum – Belleville
Rice County Historical Society – Lyons
Richmond Public Library
Scott County Historical Society/El Quartelejo Museum – Scott City
Shawnee County Historical Society – Topeka
Smoky Hill Museum – Salina
Storytime Village, Inc. – Wichita
Strataca: Underground Salt Museum – Hutchinson
Tonganoxie Community Historical Society
Tonganoxie Public Library
Trading Post Historical Society – Pleasanton
Tri-State Antique Engine & Threshers Association – Bird City
University Press of Kansas – Lawrence
Wabaunsee County Historical Society – Alma
Wichita County Library – Leoti
Wyandotte County Historical Society and Museum – Bonner Springs