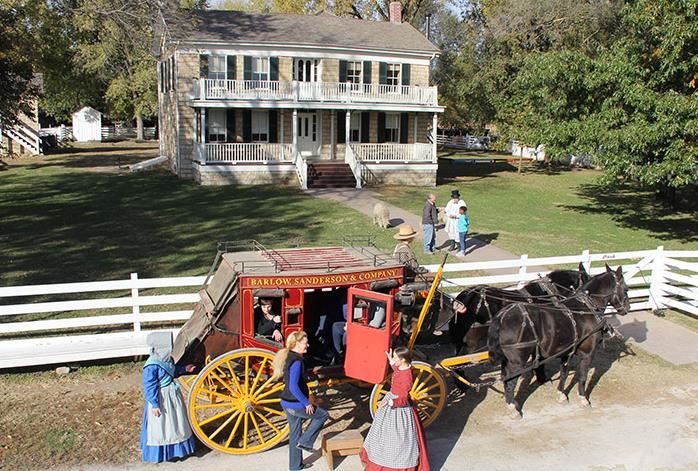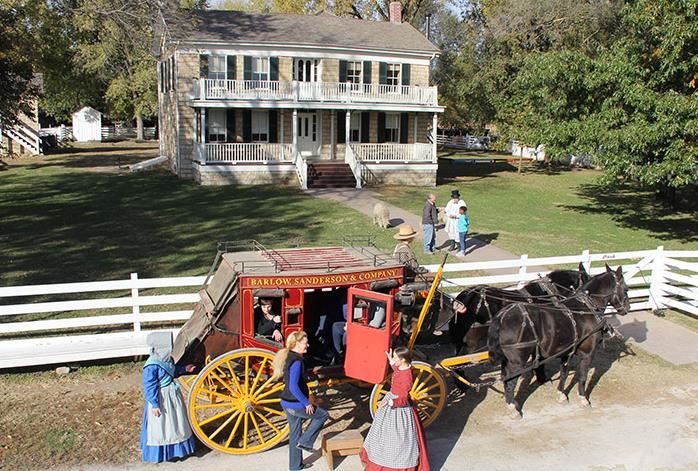 Rural Roots
August 27, 2020
The words 'rural' and 'urban' often seem at odds with one another, offering two differing perspectives. So, you may be surprised to learn that roughly 45 percent of the land in Johnson County, the most populated county in Kansas, is considered rural and still devoted to agriculture. Despite transforming into a flourishing suburb, Olathe maintains a connection to its rural foundation as implement dealers, farms, and feed stores continue to occupy the area.
While few would consider Olathe, the county seat, an agricultural community today, Olathe's roots are rural. In 1857, the same year that Olathe was founded, James B. and Lucinda Mahaffie purchased the 340-acre farm located on the Westport Route of the Santa Fe Trail. Due to the farm's buzzing location, the Mahaffies contracted with the Barlow, Sanderson, and Company Stagecoach to serve as a stop for coaches carrying passengers headed westward. But, James "Beatty" Mahaffie thought of himself as a farmer first and foremost.
I knew it was a fine country…with three other men, I started in a wagon from Indiana for Kansas Territory. From what I saw of the Territory, I know it was a fine country and we prepared to return. -letter from James "Beatty" Mahaffie
Beatty seems to have hardly done anything by chance. His farm prospered after the Civil War and he was a major contributor to getting the first railroad line to Olathe. Not only was the Mahaffie farm active in raising crops, they kept sheep and cattle. In 1870, the average value of an Olathe Township farm was $4,359. The value of Beatty Mahaffie's Farm was $12,000, more than double the average farm value. The farm's success was acknowledged in an article from The Olathe Mirror newspaper on July 18, 1872, stating, "Maj. Mahaffie has commenced the erection of perhaps the largest barn in the county, on his farm, near our city. Beattie [sic] never does anything by halves." He and his like-minded neighbors of similar economic status ventured into the world of what we now call agri-business, setting an example of how farming successes can grow a thriving community.
The Mahaffie family's story offers an opportunity to explore the crossroads of rural, suburban, and urban life. "As more people live in cities and suburbs, there seems to be less interaction with rural landscapes. Many suburbs have rural roots and Olathe is a fine example," shares Alexis Radil, of Mahaffie Stagecoach Stop & Farm Historic Site and Crossroads partner site project director. "Visiting the Mahaffie farm today provides a unique opportunity to connect how one family joined others in building a thriving community by embracing innovation and progress."
"The rural roots of our communities serve as a foundation to make possible transformation and progression."
The rural roots of our communities serve as a foundation to make possible transformation and progression. When we explore our rural past, engage with its stories, and visit its historical farmsites, we reconnect with the pioneering spirit of those that laid the way for our present. An appreciation of our Kansas heritage allows us to realize that regardless of whether we live in rural, suburban, or urban communities, if we look beyond our differences, we might find that we're more alike than we think.
Article contributed by Mahaffie Stagecoach Stop & Farm Historic Site.
Join the Movement of Ideas
Visit the Rodeos and Roudabouts: Exploring Olathe's Rural Roots exhibition on display at the Mahaffie Stagecoach Stop and Farm Historic Site, 1200 Kansas City Road in Olathe, from August 29, 2020 to January 31, 2020. www.mahaffie.org