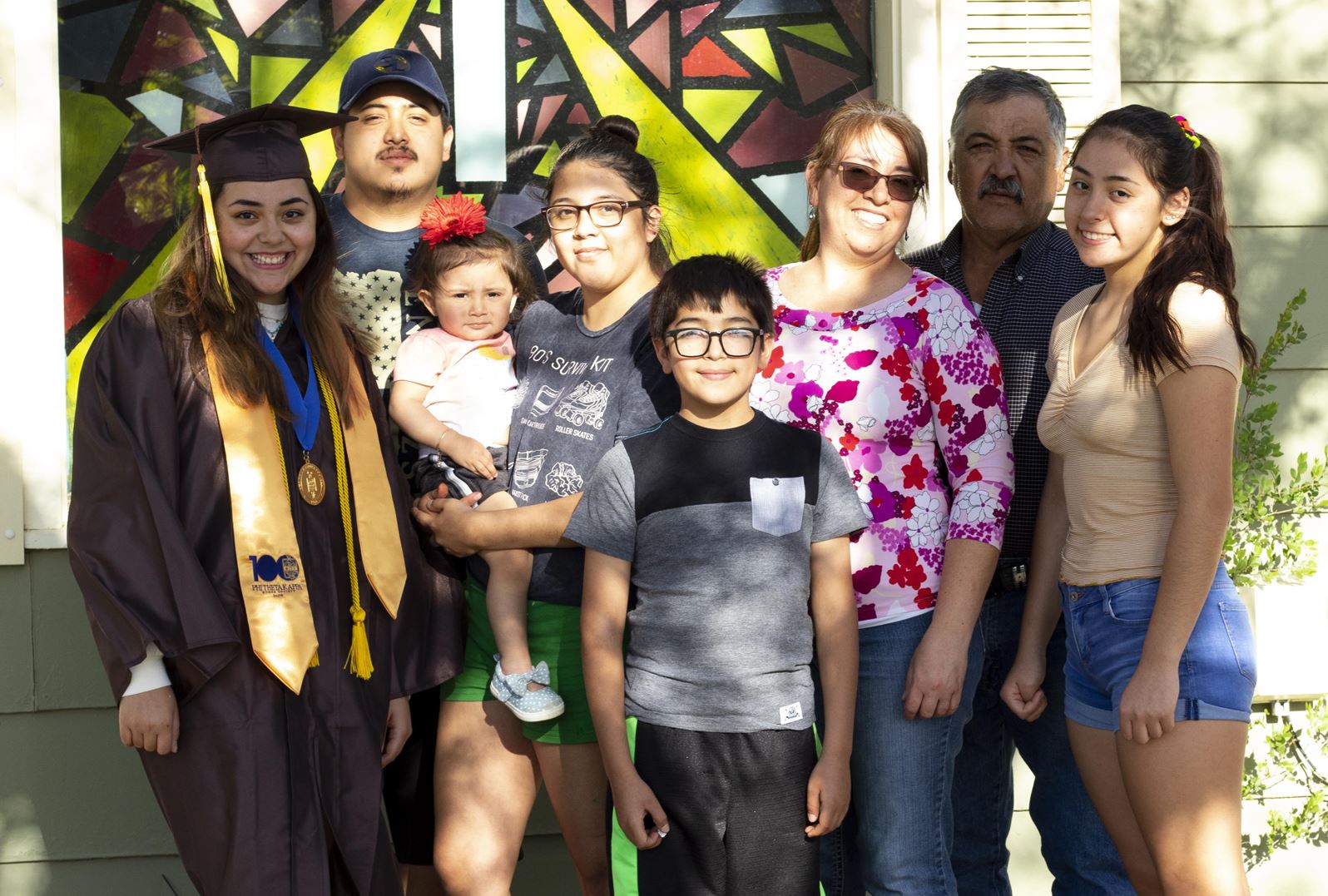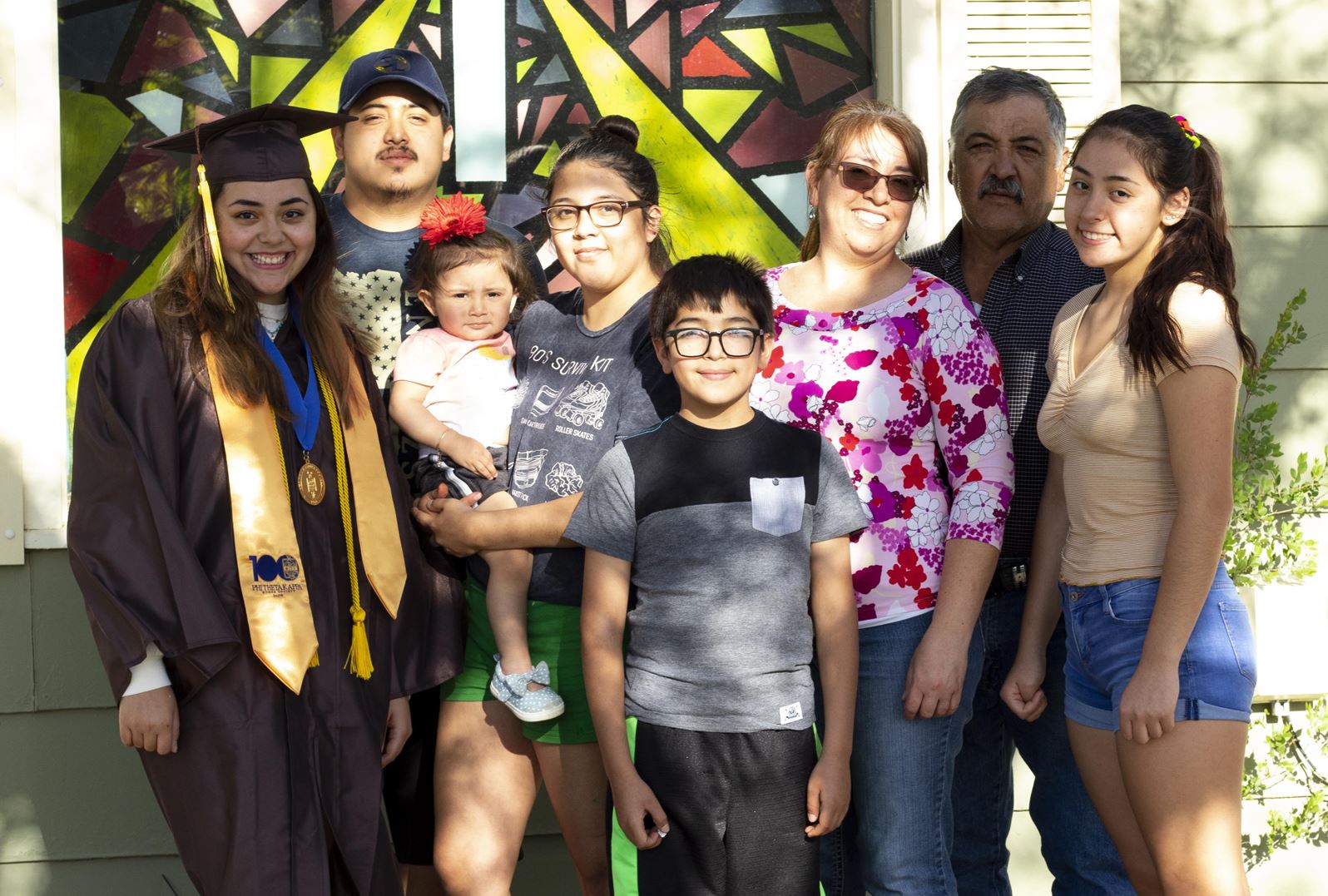 Satanta: Connected at the Crossroads
January 4, 2021
When the pandemic hit Haskell County, Kansas, Bethany Wood picked up her camera and headed to front porches across her hometown of Satanta. Over the course of 2020, Woods immersed herself in what she came to call "The Front Porch Project." Her mission? To capture the portraits and stories of Satanta families as they made their way through a global pandemic. With the help of her daughters and fellow photographer Diana Nieto, Woods was able to have front porch photo sessions with over ninety families.
A few of Woods' resulting photographs and the stories that accompanied them are on virtual display at "Connected at the Crossroads," an exhibit curated by Woods as part of Humanities Kansas and the Smithsonian Institution's statewide project, Crossroads: Change in Rural America. Sparking dialogue about how rural communities are adapting to change, the project includes a traveling exhibit (the schedule for which can be found here) as well as ten original exhibits, created by ten different Kansas communities, that, collectively, tell the story of how residents are keeping the rich history and vibrant traditions of Kansas rural life alive for future generations.
"Connected at the Crossroads" picks up on themes that run throughout the project as a whole—identity, community, and perhaps most importantly, persistence. In the online exhibit, for instance, we read the story of the Najera family who moved from Chihuahua, Mexico to Satanta in 1995 in order to start a family; we learn about the Salas family who are proud to be part of a community that, as the matriarch of the family, Sofia Salas, says, "is united in difficult times"; and we learn about the long but finally successful struggle of the Kraemer family to ensure that Marcus Kraemer was able to successfully immigrate from Germany to Kansas.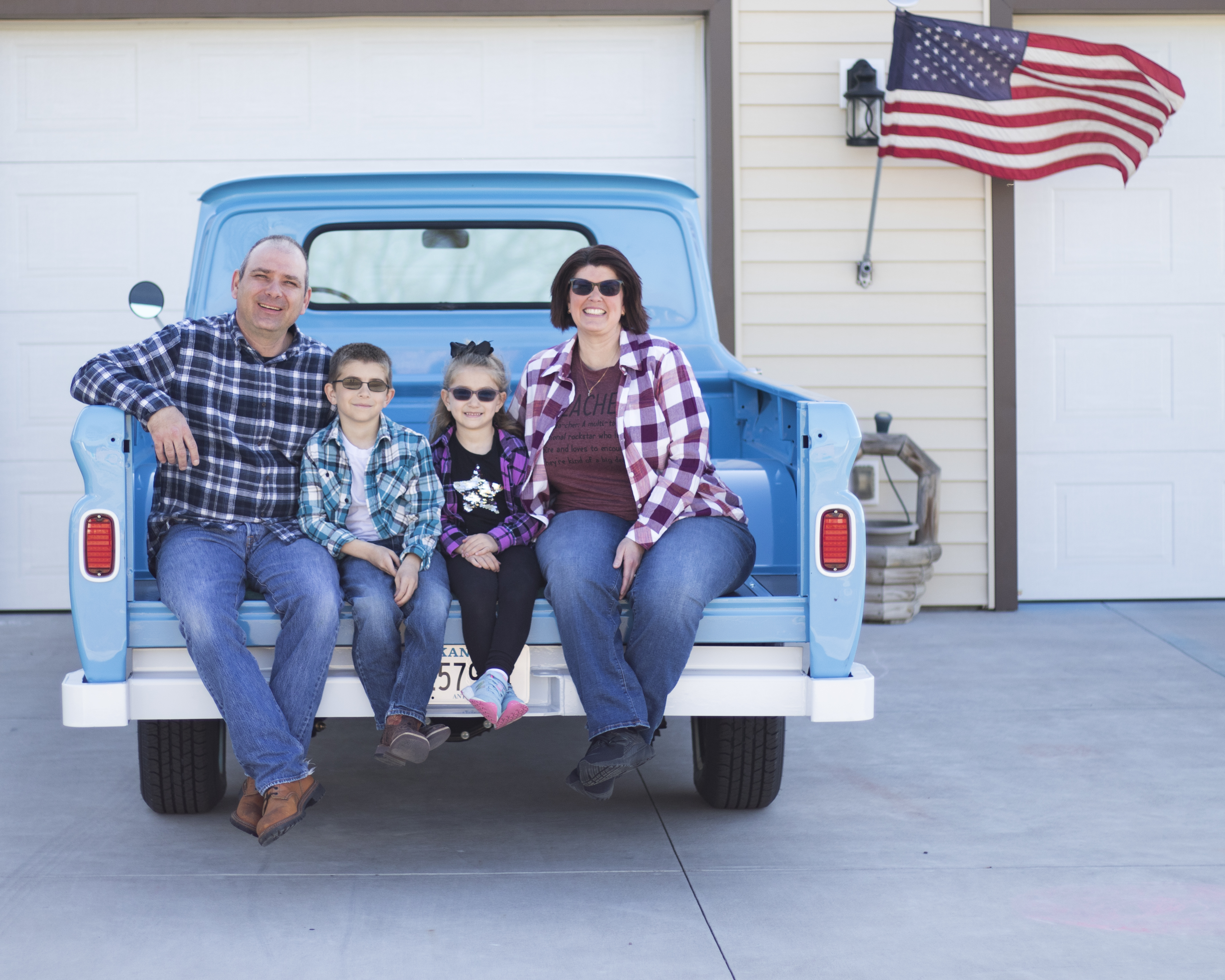 Questions for Discussion
After exploring "Connected at the Crossroads," take a minute to consider the following questions:
In what ways did the stories and photographs collected here as part of Woods' "Front Porch Project" meet your expectations? In what ways did they surprise you?
With how many people in your hometown would you feel comfortable starting a front porch conversation? Would you feel more comfortable reaching out to people from other cities, or other states, to chat via zoom or some other digital platform--even if there wasn't a pandemic? Why?
Is it still important to share a sense of community with people in your geographic neighborhood? Have other forms of community become more important or more valuable to you over the course of your life?
How does community, whether geographical or digital, help us to understand who we are and to persist in times of struggle? How can we, as individuals, help our different communities to persist when they are faced with challenges?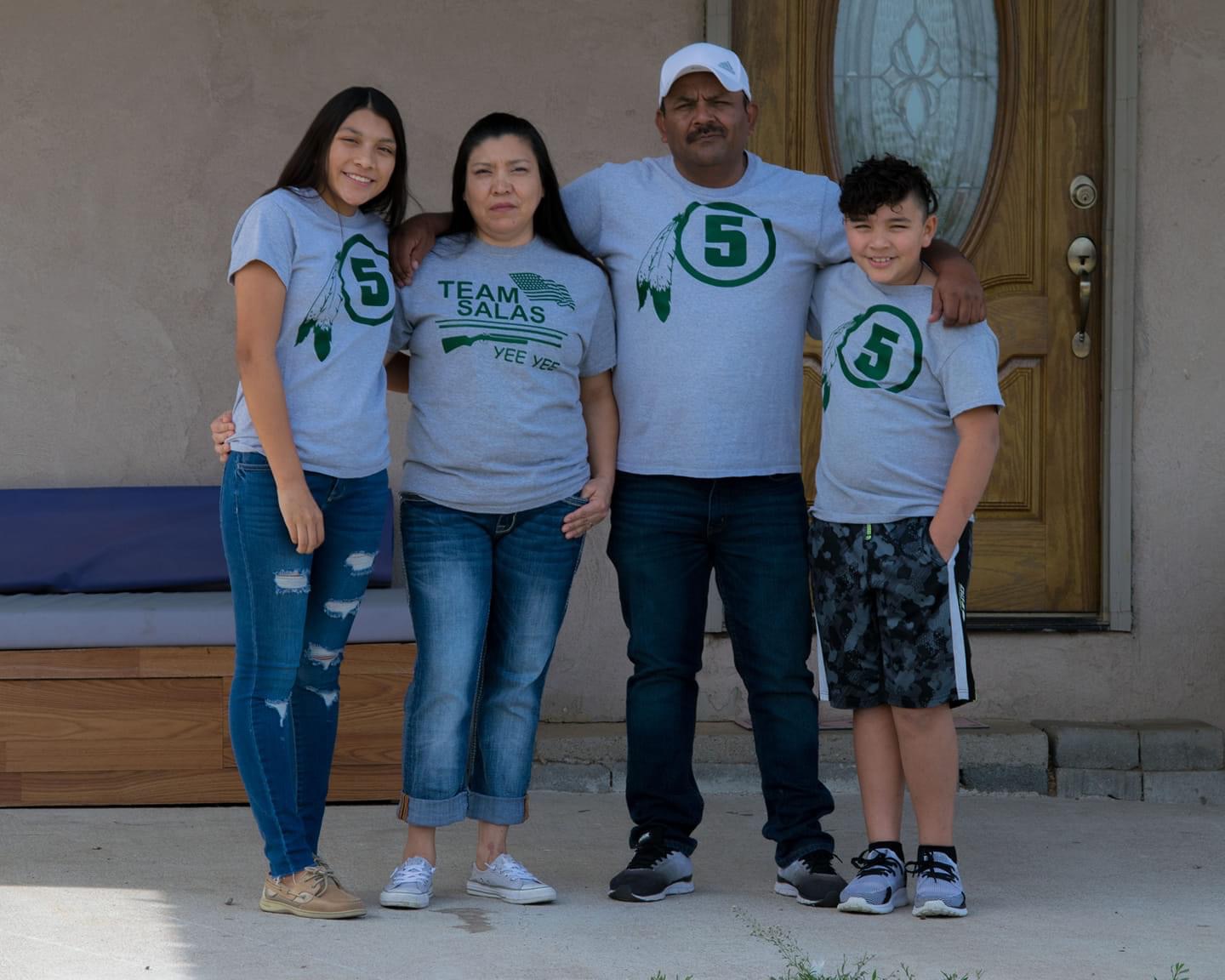 Go Further
The following activities are designed to help you think more about the connections between community, identity, and persistence:
Conduct your own front porch project. Reach out to a neighbor and ask if you can drop by their porch to safely hear the story of how they came to live in your neighborhood. Maybe they let you take their picture, maybe they just share a few memories. Either way, it's an excellent opportunity to get to know who is in your local community, how they got to be there, and why they value the neighborhood you both share.
Not comfortable reaching out in person? An online zoom chat or email exchange can be just as meaningful. If you're not sure where to get started, focus on the subject that is on most of our minds—the pandemic. Our COVID-19 Oral History Questionnaire provides a set of questions perfect for getting the conversation started and even turning it into an official oral history.
Take a second to share a little bit about your own Kansas hometown experience by filling out our "Let's Talk" questionnaire online here. With creative and thought-provoking questions designed to capture how Kansans are feeling about their communities right now, it's a great way to not only share your experiences but also, upon submission, to learn a little bit about your fellow Kansans.
Most importantly, we want to hear your thoughts about connecting in today's Kansas. Tell us the story of one of your front porch conversations by snapping a photo (if your neighbor give you permission!) and sharing it on Instagram by tagging us @humanitieskansas. Be sure to use the hashtag, #crossroadsks. Alternately, share a sentence or two about what you've learned about the connections between identity, community, and persistence in your hometown by tagging us on Facebook @humanitieskansas with the hashtags, #storychasershk and #crossroadsks. As always, we look forward to hearing what you've taken away from these Kansas crossroads!
Banner Photo: Najera Family by Bethany Wood