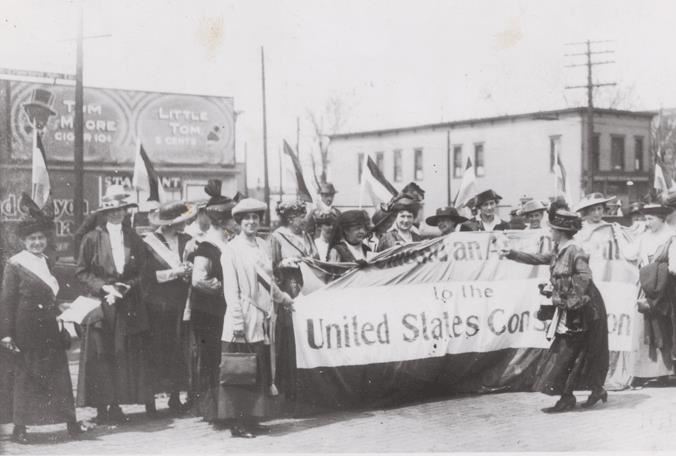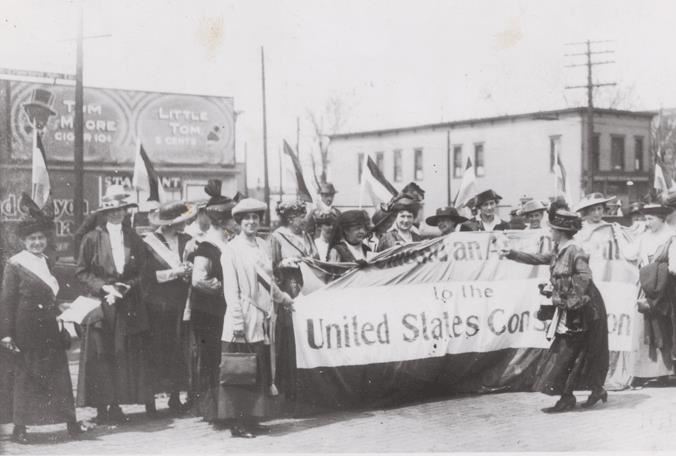 El Dorado: Suffragist County
January 25, 2021
Did you know that Butler County was home to the first woman bailiff and the first all-women jury in the United States?
In the Kansas Oil Museum's online exhibit, "Suffragist County," we learn about the key role that Butler County played in the national suffrage movement that gave women the right to vote. Part of Humanities Kansas and the Smithsonian Institution's traveling exhibit, Crossroads: Change in Rural America, "Suffragist County" demonstrates the ways in which a Kansas community at a crossroads was able to move forward in innovative and pathbreaking ways. "Butler County's involvement in the women's rights movement is a Crossroads story of change and progress," explains Tiya Tonn, Crossroads Partner Site project director for Kansas Oil Museum. "It's important to remember stories like this so that we can gain a better understanding of our history and use that knowledge to inspire others."
Questions for Discussion:
Take a few minutes to explore the "Suffragist County" exhibit, and then answer the following questions:
Why do you think Butler County played such a historic role in the fight for women's suffrage? Do you think El Dorado's identity as an oil town impacted the likelihood that Butler County, in which it resides, would become a community that was progressive on issues related to women's rights? Why?

What makes a community more or less likely to become a space for historic change? What characteristics make some communities willing to embrace change and others intent on resisting it?
What lessons can you take from the role that Butler County played in the fight for women's suffrage? Are there ways in which your community is participating in historic change right now?
Go Further:
Now that you've explored the "Suffragist County" online exhibit, consider the following activities as ways to enhance your learning:
Explore this 1920 Kansas Voters' Manual, designed to "assist the women of Kansas in discharging the duties of citizenship." What do you make of this manual's attempt to assimilate women into the voting process? Is it effective? Why or why not?
Dig deeper by booking a virtual presentation or phone call with Humanities Kansas Speakers' Bureau scholar, Sarah Bell. Her presentation, "Politics on the Platform: Woman Suffrage at the Chautauqua," explains how women were able to use the popular Chautauqua platform to advance the suffrage movement.
Give back by helping the Library of Congress to digitally transcribe records and documents from the National American Woman Suffrage Association, formed in 1890. Your efforts will ensure that these documents are preserved for the future and are easily legible and searchable by historians and other scholars. Get started here.
Finally, share what you've learned by telling us about it on Facebook or Instagram. You can tag us with your thoughts at @humanitieskansas, using the hashtag, #crossroadsks. We can't wait to hear what you've taken away from these Kansas crossroads!