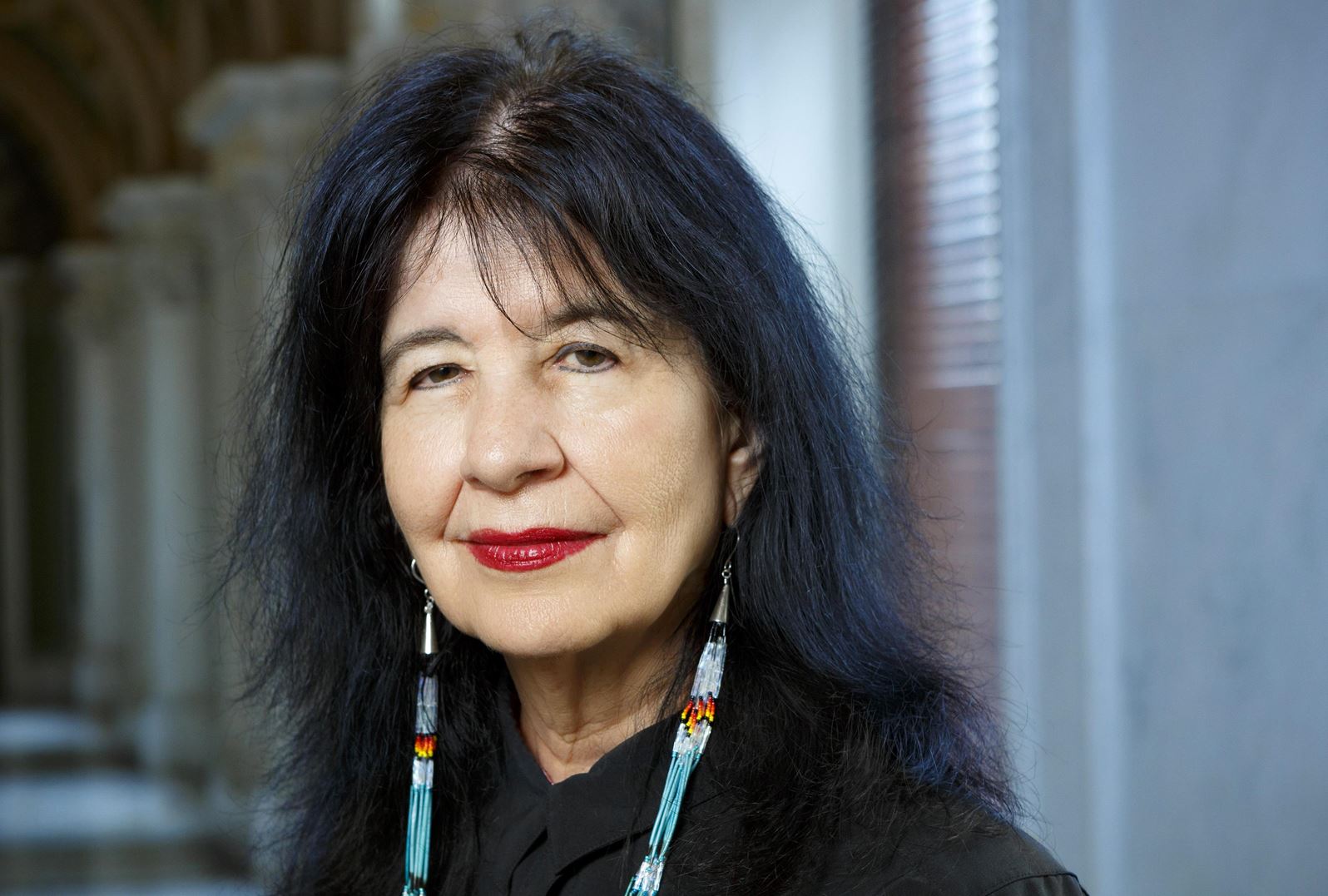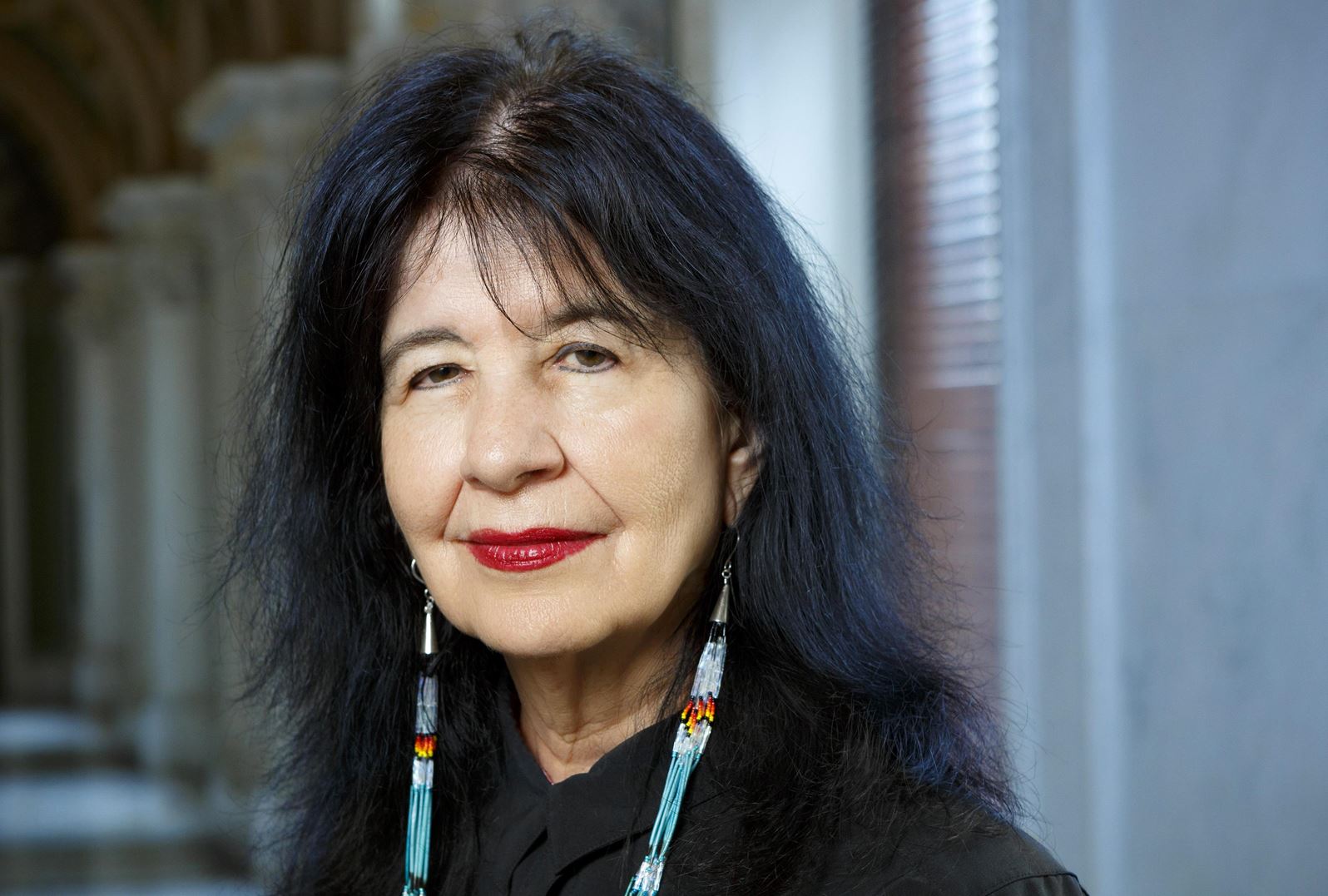 Words of Wisdom
February 2, 2022
As the 23rd Poet Laureate of the United States, Joy Harjo brings a unique perspective to this national position. Appointed in 2019, Harjo is the first Native American named to the role and only the second U.S. poet laureate to be appointed to a third term. Her official duties as poet laureate are broad: To bring awareness and an appreciation to poetry. Harjo has focused her work on Native Nations poets and poetry with the creation of a digital repository called Living Nations, Living Words: A Map of First People's Poetry, which she worked on with the librarians at the Library of Congress.
Harjo will join Kansans on February 23 at 7:00pm for An Evening with Joy Harjo, a special online event. Registration is free.
Harjo is known around the globe as a poet, writer, songwriter, musician, and performer, and she is part of the Muscogee (Creek) Nation in Oklahoma. Her presentation is a cooperative effort between Humanities Kansas, Haskell Indian Nations University, the Lawrence Public Library, [link: https://lplks.org] and the Hall Center for the Humanities at the University of Kansas. The event was made possible by a grant from the Andrew W. Mellon Foundation and the Federation of State Humanities Councils as part of the Democracy and the Informed Citizenry initiative.
A member of the committee organizing the presentation, Haskell Indian Nations University Professor Eric Anderson says, "She brings the First People perspective to the landscape of poetry. She doesn't let us forget the importance of the Indigenous perspective."
As a historian and a member of Citizen Potawatomi Nation, Anderson says a lot of her work is not only striking, but it also speaks to historical consciousness, which sits well with him. "(Harjo) is something of a household name in Indian Country. I think (students) will be really taken with her spirit and personality."
Carrie Cornelius, acting supervisory librarian at Haskell and a member of the Prairie Band Potawatomi, says, "Hearing Joy Harjo is like going to church. I never know which poem, story, or songs will touch my heart or pull tears from the depths of me. … As an Indigenous librarian, (I enjoy) watching a young tribal student be moved for the first time reading her creations."
Cornelius believes Harjo's work speaks to so many people because "her compassion for all the life on our Earth is how so many cultures value her insight, compassion, and empathy."
In addition to the evening online event, Harjo will be meeting with Haskell and KU students via Zoom on February 23 and 24. Haskell students Molly Adams, a senior from Lawrence and a member of Cherokee Nation in Oklahoma, and Sonwai Wakayuta, a Lawrence junior affiliated with the Hualapai and Hopi tribes, are both looking forward to Harjo's virtual visit.
"My favorite poem by Joy Harjo is probably Perhaps the World Ends Here," says Adams. "I like the comfortable and familiar imagery of life bustling around a stationary table. I like the countless sunrises and sunsets and blurs of life whirling around this one constant, reliable piece of the home and of the family."
Wakayutsa remembers hearing one of Harjo's poems when she was younger, She Had Some Horses. "When she was inaugurated (as poet laureate), she was reminiscing on some of her work, including memories of when she was a teen and young adult, still figuring out the wheels of life. I resonated with that … I am a young adult, just figuring out my path in life, and to hear her celebrate the mistakes she made, gave hope to myself and others in the audience."
"(She) appreciates details in everyday life. Not about hope, glamour, happiness, it's really just about existence and being in the moment. A boring mundane day can be simple and beautiful, if you understand that just being alive is the appreciation," Wakayuta says.
(She) appreciates details in everyday life... A boring mundane day can be simple and beautiful, if you understand that just being alive is the appreciation"
The presentation will be available statewide through a livestream coordinated by the Hall Center for the Humanities. It's a chance for all Kansans to engage firsthand with the poet laureate and her poetry, says Julie Mulvihill, executive director of Humanities Kansas.
"HK is honored that Joy Harjo is making a virtual presentation in Kansas," says Mulvihill. "Her words will promote Indigenous poets, inspire the next generation to start writing, and engage more Kansans with Indigenous poetry."
"This will be a wonderful opportunity for the students to engage with someone who has national status," Anderson says. "She really does speak to the Native perspective. We're thrilled and honored to have her come visit us, and I'm really looking forward to what she's going to speak to."
Photo: Copyright Shawn Miller
Join the Movement of Ideas