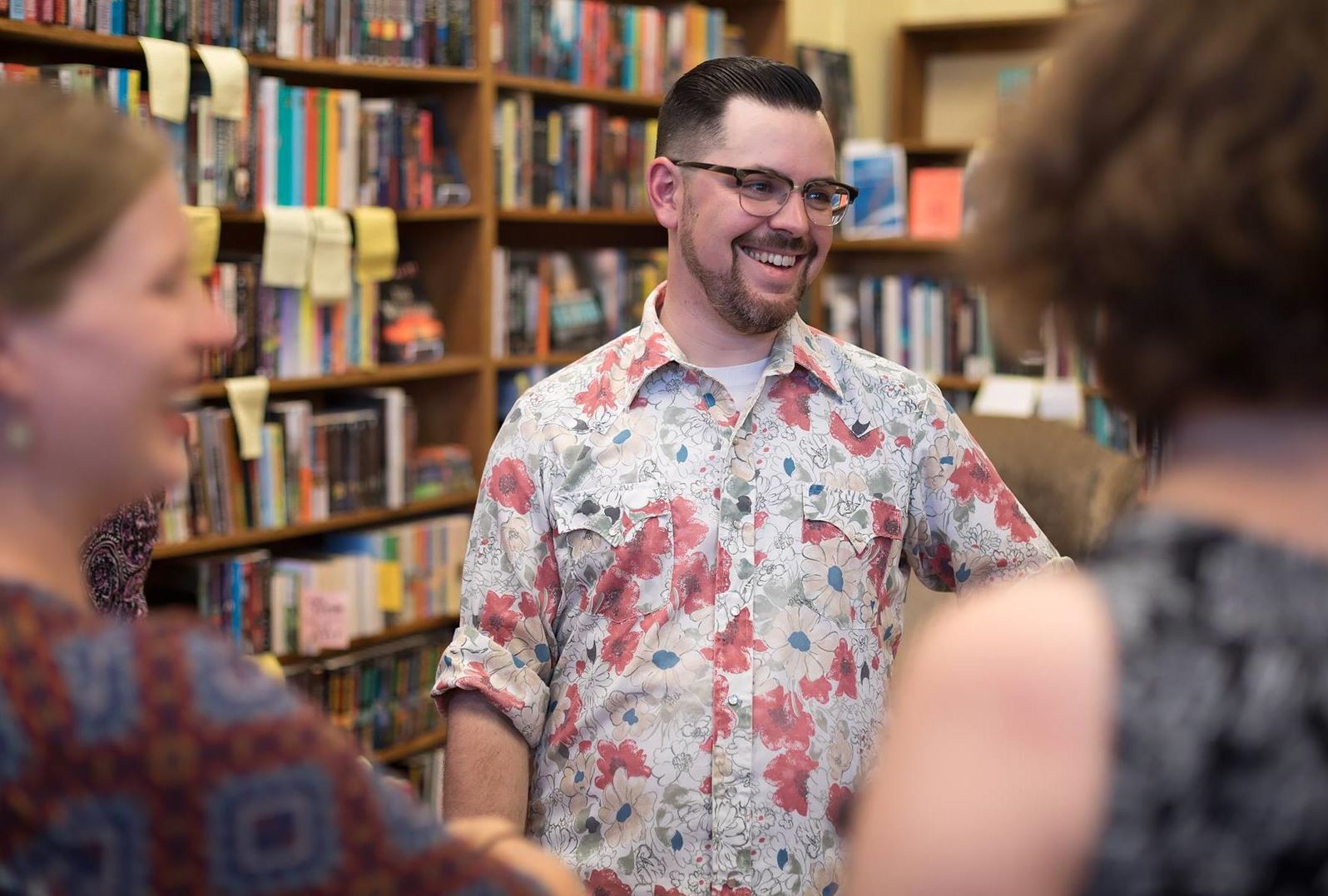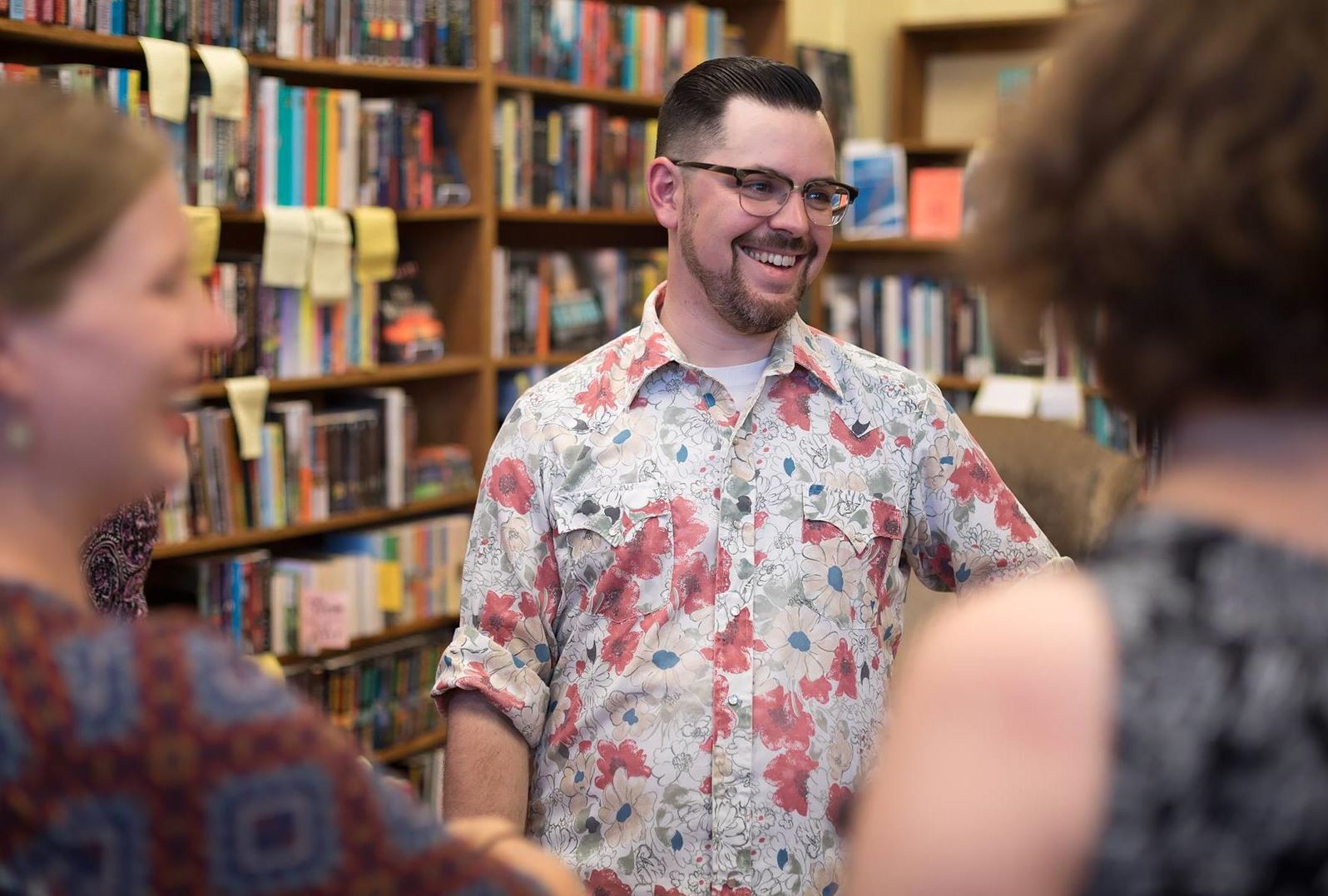 Meet Danny Caine
What's your Kansas story?
I moved to Kansas in 2014 to pursue an MFA at the University of Kansas. I was born and raised in Cleveland, Ohio where I lived for my whole life until coming to Lawrence. My wife and I were both applying to grad school at the same time, and KU was very welcoming to both of us. Kansas interested us because it was a new place to live, and it's certainly different from Cleveland, but it also shares some Midwestern ethos with Ohio. I'm by no means a coastal person. I'm a proud "flyover country" citizen for life. That said, upon my first major move, the question of "where are you from?" became complicated. I'm still not sure how to answer it, but I know I'm a proud Kansas resident. I identify as a Kansan in many ways—Kansas informs my art, my politics, and of course, my college basketball loyalties.
Describe what you do now. What inspires you about what you do?
I own and run the Raven Book Store, which I bought in August 2017. It's easily the best job I've ever had, and a dream come true in many ways. The most inspiring part of the job is Lawrence's literary community. It's so diverse and energetic—it feeds me energy in so many ways. A small example: Eve Ewing came to give a big reading in January 2017, which alone was inspiring. The night before, she was slated to be the featured guest at Mic Supremacy, a POC-centered open mic that the store hosts. We found out at the last minute that Eve is highly allergic to cats, so the Raven's two feline employees prevented her from performing. Quickly, we all decided to relocate the event to The Commons on campus, and 45 minutes later the show started in a new location. Not only was the pluck and devotion shown in moving at the last minute inspiring, but every poet that night read immediate, inspiring work. Though difficult, it was one of my favorite nights as a bookseller.
What inspires you about Kansas?
Kansas to me feels defiant in so many ways. Here in Lawrence, we have our Jayhawker history, sure. But I also think of how interesting the state is, even in the face of unfair stereotypes that there's nothing here. Whoever says there's nothing between Kansas City and Denver clearly hasn't been to S.P. Dinsmoor's Garden of Eden, or M.T. Liggett's amazing highway sculptures. They haven't seen the Birger Sandzen gallery or read a poetry collection by Megan Kaminski or a novel by Daniel A. Hoyt, or eaten at Gella's in Hays or even had the sliders at the Cozy Inn.
"There's just so much creative energy in Kansas."
Why do you love the humanities?
I love the humanities because they seem to me to be a study of connections—the connections between a land and its people, the connections between people and other people, the connections between the present and the past. The study of these connections can enrich our lives, broadening and diversifying our experiences.
Do you believe ideas can change the world? How? Why?
I do believe that ideas can change the world, but that doesn't mean I understand how an idea goes from birth to world-changing. I suppose that's another reason to study the humanities, right?
Why is it important to engage with new ideas?
I used to be a high school teacher, and I frequently faced the question of "when are we going to use this?" 'This' could be the quadratic equation, or it could be Hamlet's second soliloquy. My answer, then and now, is that the act of learning is in itself valuable, and should be divorced from the idea of utility. Another reason is this: the path to the elimination of systemic oppression begins with the understanding of perspectives other than your own.
"Walking a mile in someone else's shoes isn't going to solve racism, but it's a good place to start."
Ideas and prejudices get entrenched when we refuse to look outside our own experiences and privileges. Engaging with new ideas can begin that process.
Why should people join our movement of ideas?
There's lots of work to be done, and fresh thinking, different ideas, civic engagement, and an embrace of diversity are vital to the beginning of that work.
Why do stories and fresh thinking matter in Kansas today?
In some ways, Kansas is under a national microscope. Ideas, political and otherwise, that were born here have become part of the national dialogue. Geographically and in other ways, we're in the exact middle of the country. Stories and fresh thinking matter because we should make sure the story we tell the rest of the country best reflects who we are as a whole state—and that's a picture that's more complicated than what sometimes emerges.
How would you like to see Kansas evolve in the next five years?
I would love to see Kansas embrace diversity and be more welcoming to its people of color. Kansas should feel safe for all people; it doesn't right now. That inspiring creative energy disappears if we can't welcome all people regardless of background, appearance, orientation, standing, or ability.
What do you wish people knew or understood about Kansas?
The area between KCMO and Denver isn't boring; it's filled with diversity, different perspectives, history, and amazing art. People, those from Kansas and those from elsewhere, should pay more attention.
Are you ready for our lightning round? Favorite dessert?
Key Lime Pie, always. Too often, cake becomes a vehicle for inappropriate amounts of frosting, and I find frosting to be the least satisfying dessert experience.
Would you ever agree to be on a tv or radio game show? If so, which one and why.
I've long wanted to be on the Price is Right—this comes from sick days (or snow days) during my school years. To this day, if I'm home in the middle of the day, I start to hear the theme music in my head.
What is your favorite book and why?
White Teeth by Zadie Smith—hilarious, complex, intelligent, it captures the span of human experience in the way only the best novels do.
Name your top movie picks.
I love smart comedies. A movie can be very funny and not sacrifice its brain. Examples: Mystery Train, Tampopo, Being There, The Apartment.
What is your favorite artwork?
I love Nick Cave's Soundsuits. Such huge, exuberant art that engages with so many ideas, and it can shift based on its context. It's political art, sure, but I once went to a Nick Cave exhibit with a nine-year-old, and he loved it too.
About Danny Caine
Danny Caine lives in Lawrence, where he owns and runs the Raven Book Store. He's also a poet, author of the chapbook Uncle Harold's Maxwell House Haggadah (Etchings Press, 2017) and the forthcoming book CONTINENTAL BREAKFAST (Mason Jar Press, 2019). His poetry has appeared in Diagram, Barrelhouse, Hobart, and New Ohio Review among other places.