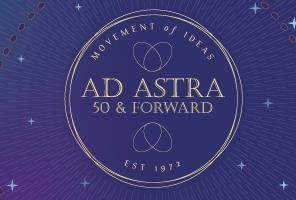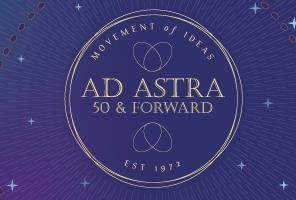 Ad Astra: 50 and Forward
A special event in honor of Humanities Kansas's 50th anniversary
July 16-17, 2022
At the Historic Elgin Hotel, Marion, Kansas
In the Heart of the Flint Hills
On July 16-17, Humanities Kansas transforms the historic Elgin Hotel in Marion into Hotel Humanities, a one-of-a-kind immersive weekend experience to celebrate our 50th anniversary. We've booked the entire hotel and together we'll dream big and renew our Kansas spirit through conversations in history, literature, poetry, and song.
A One-of-a-Kind Experience
The event begins at 3:00 on Saturday, July 16 and ends at noon on July 17. It's a cozy affair with 12 guest rooms, historic charm, and modern amenities in this fully renovated 19th century limestone hotel.
Join us as we tell stories over good food and good books, short walks with morning coffee, and songs under the stars. Kim Stanley, poet and literature professor; Bill Tsutsui, historian and president of Ottawa University; and Jim Hoy, author and folklorist, will lead the humanities sessions.
Reserve Your Place
$1,350 is the all-inclusive rate for two adults and includes one room and a night's stay in the heart of the Flint Hills, five lively educational discussion sessions, dinner and drinks at the Parlor 1886 restaurant plus breakfast, lunch, and unexpected surprises. The all-inclusive rate for single guests is $800. Full payment is due at the time of your reservation. The ticket rate includes goods and services in the amount of $800 for a double occupancy room and $500 for a single occupancy room.
50 and Forward
All donations for the Ad Astra event support the 50 and Forward Fund to keep the movement of ideas in motion into the future. Ad astra!
To make your reservation, call Humanities Kansas at 785-357-0359.
Contact Julie Mulvihill, Executive Director at julie@humanitieskansas.org or
785-357-0359 for more information.