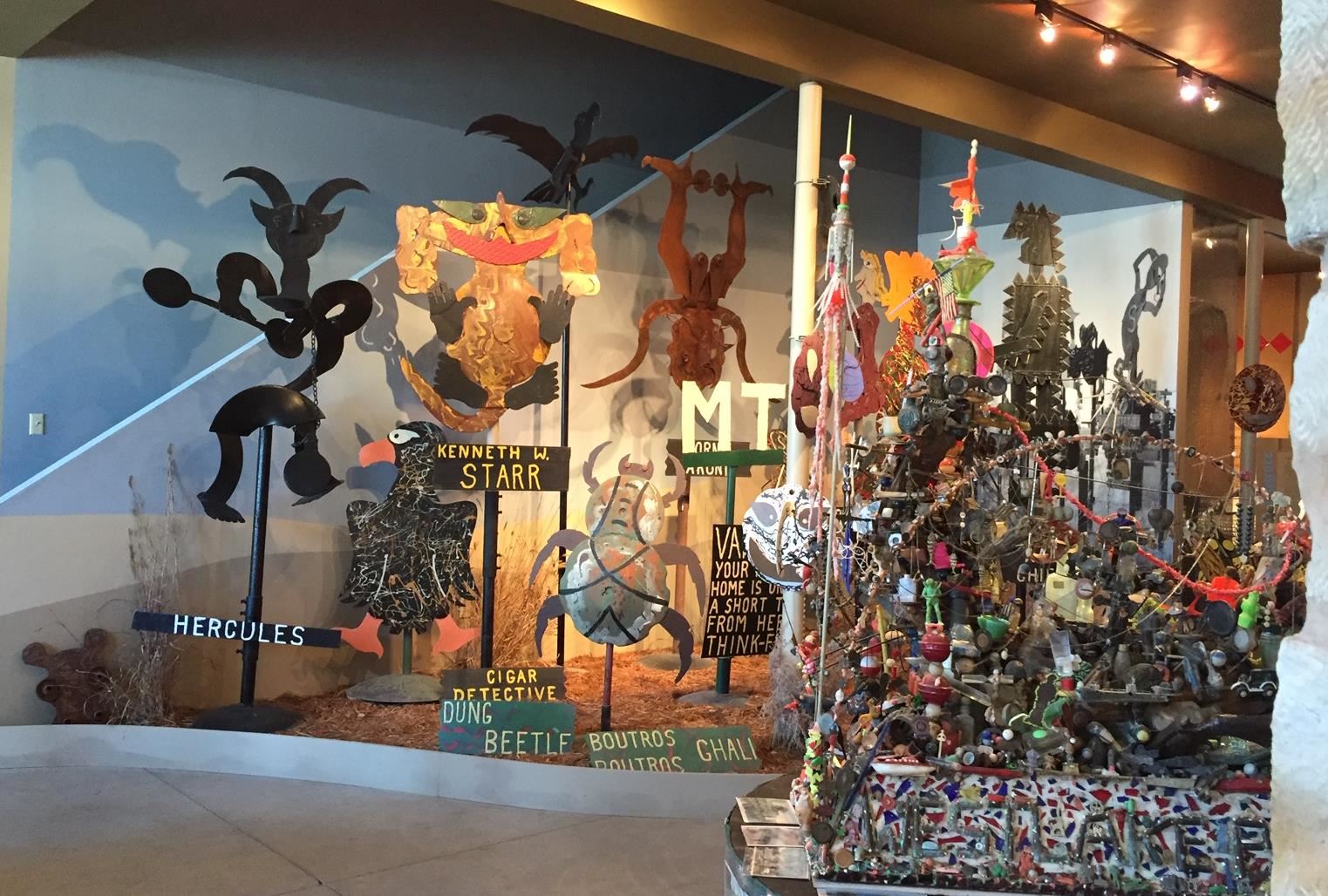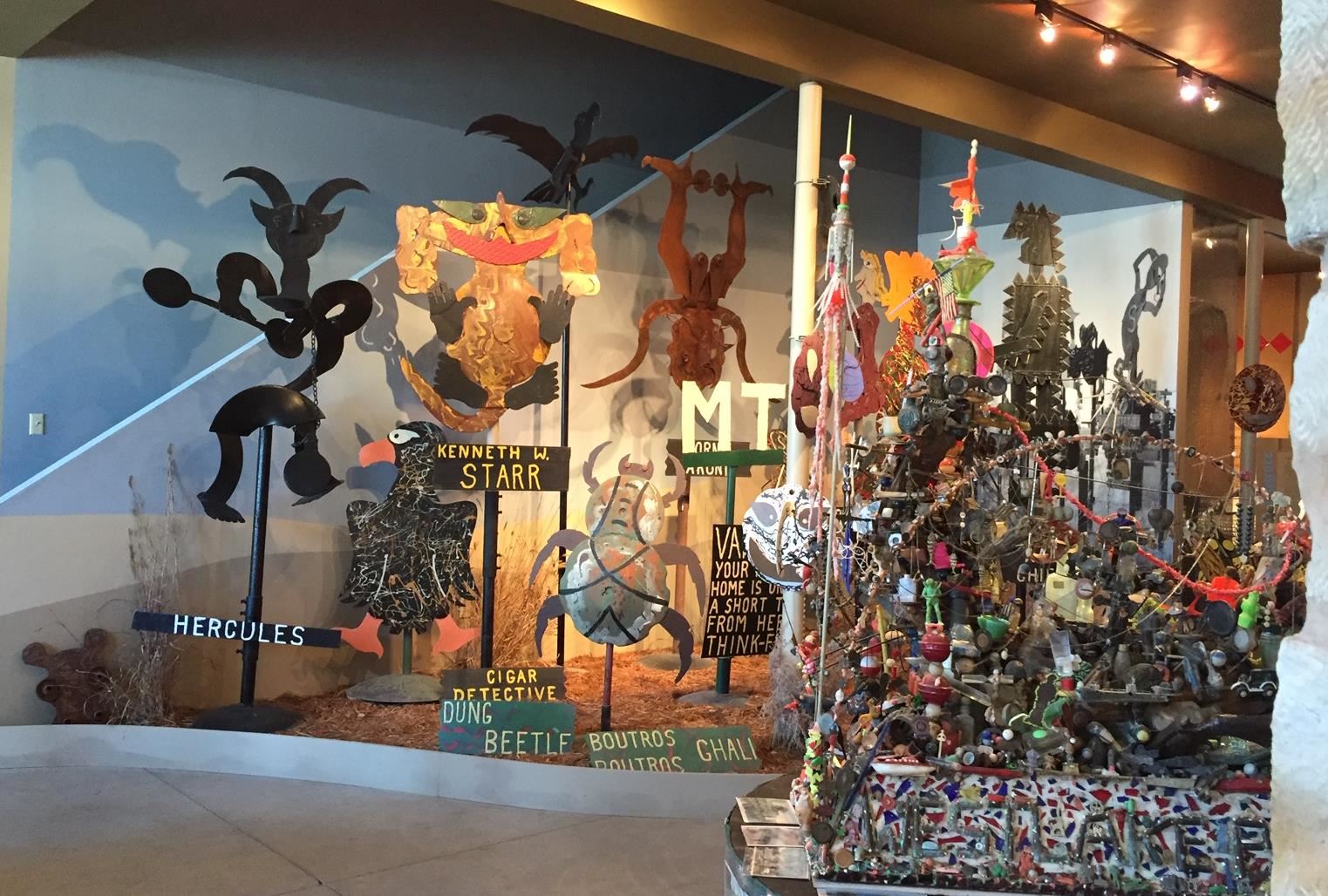 Take a Walk on the Lighter Side
April 17, 2020
Life during the COVID-19 outbreak can be stressful, but the humanities, which so often get a reputation for seriousness, can also provide opportunities for laughter and fun. Check out some of our favorite upbeat and lighthearted ways to connect with the humanities from your very own living room:
Whismical Wood Carvings in Belleville
Virtually explore the wood-carving world of Paul Boyer. The Boyer Museum of Animated Carvings in Belleville is home to Boyer's quirky scenes carved from soft pine and animated to capture the Kansas spirit. While the Museum may be closed to visitors at this time, videos of some of Boyer's most popular carvings in motion are available on the website and are sure to put a smile on your face.
Get Into Grassroots Art
As defined by the Grassroots Art Center in Lucas, Kansas, "grassroot art" is "art created by self-taught individuals, usually during their retirement years. […] Many times, the art is inspired by seemingly useless recycled items." Exhibits include work in every unexpected medium imaginable—from barbed wire and pull-tabs to sequins, chewing gum, and even grapefruit rinds. Get inspired and start turning some of your "trash" into artistic treasure—empty toilet paper roll necklace, anyone?
Read about a Dairy Queen & DIY A Butter Sculpture
Connect with 19th-century Midwestern culture by dabbling in a bit of butter! That's right, we said butter. Read about butter sculpture's first creative pioneer, Caroline Shawks Brooks from Helena, Arkansas, in Erika Nelson's essay, "Dairy Queen." Then, get out the butter and DIY your own butter sculpture by following this step-by-step guide. Remember to start small—no one wants good butter to go to waste! And finally, think about booking a Dial-a-Speaker session with Erika herself to learn more about butter sculpture, as well as the 19th-century craft of hair wreaths and seed portraits. Email abigail@humanitieskansas.org.
Dial-a-TALK
Explore our Dial-a-TALK reading list "On the Lighter Side," where humor writers come to the rescue, bringing both immediate laughs and healing new perspectives on the ordinary afflictions of daily living. Once you've laughed your way through one of these reads, you can schedule a phone, skype, or zoom session with one of our Dial-a-TALK discussion leaders by emailing abigail@humanitieskansas.org They're ready to keep the laughter flowing while discussing these joyful books.
Choose Your Own Pet-Venture
In these challenging times, where would we be without our pets? Whether Fido's begging for another walk around the block or Muffin's sitting on your keyboard during a conference call, our pets are much-needed diversions when we're down and remind us that what really matters are our relationships with our furry friends. So, what better way to celebrate your beasty besties than with a humanities-inspired pet-venture. It's just this simple:
Use the Choose Your Own Pet-Venture Map to find the perfect humanities read for you and your pet.
Create your own pet-purrfect concrete poem. Concrete poetry is poetry that uses not just words but also color, typeface, layout, and imagery to convey meaning. They are a perfect way to express your love for your paw-possessing best friends. Check out these examples; then create one of your own.
Show your pet how much you care by designing your own pet-comic! Nothing says "I love you" like "I made you your own comic strip!" You can get out pen and paper and go the old-fashioned way, or you can go digital with StoryboardThat an online app that lets you create a simple, professional-looking comics in no time. You ARE the next Charles M. Schulz!
Take a picture of your creation and submit it along with a pic of your pet to our social media accounts @humanitieskansas (Facebook and Instagram) and @humanitiesks (Twitter) #storychasershk #humanitiesathome #movementofideas We can't wait to see which Pet-Venture you choose!