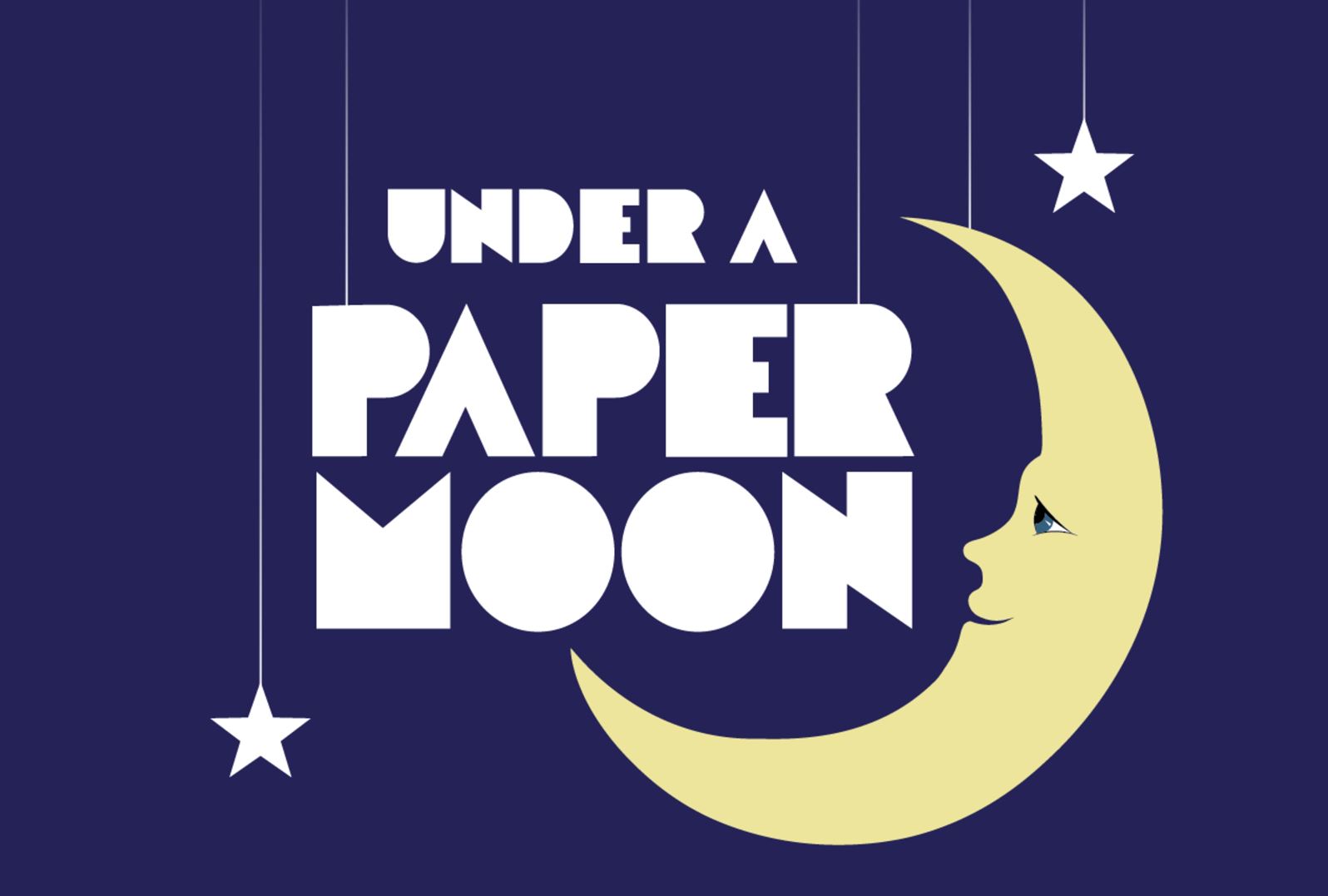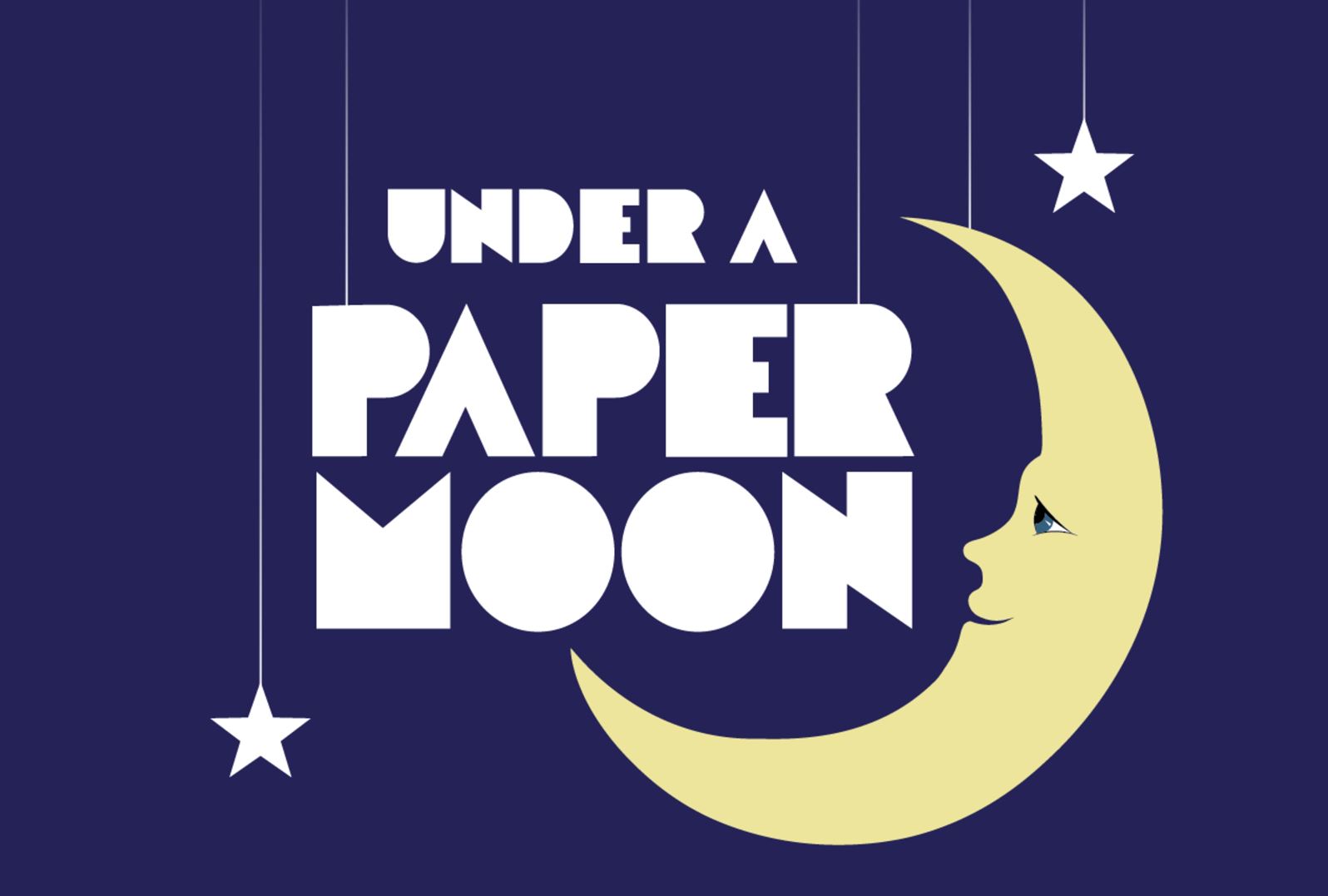 Under a Paper Moon
A Hotel Humanities weekend filled with ideas and conversation supporting HK's Future Forward Fund.
On July 22-23, Humanities Kansas transforms the historic Midland Railroad Hotel in Wilson into Hotel Humanities, a one-of-a-kind immersive weekend experience to celebrate the humanities. Inspired by the 50th anniversary of the movie Paper Moon, filmed at the Midland and other Kansas locations, we've booked the entire hotel to explore visions our state – past, present, and future – through art, history, literature, poetry, and song. It's the movement of ideas in action.
The paper moon was a popular backdrop for pop-up photographers at county fairs and carnivals early last century. A "man in the moon" carefully constructed out of paper and set against a sky full of stars became a perfect backdrop for Kansans familiar with open skies and starry nights. But the chance to be in the sky yourself? It's an illusion; a vision filled with excitement, dreams, and wonder.
Over the weekend we'll engage with stories about outsider art and cultural traditions, new voices and past stories. And we'll take our vision of Kansas "to the stars" and back again. Humanities professors Kim Stanley and Bill Tsutsui will lead the literature and history discussions.
A ONE-OF-A-KIND EXPERIENCE
The event begins at 12:30 on Saturday, July 22 in Lucas with guided tours through the Lucas Arts Triangle. In mid-afternoon, we move to the Midland Hotel in Wilson. The weekend ends at noon on Sunday, July 23. The fully renovated 20th century limestone hotel has 21 guest rooms, historic charm, and modern amenities.
RESERVE YOUR PLACE
$1,500 is the all-inclusive rate for two adults and includes one room and a night's stay in the heart of Kansas, tickets to three Grassroots Art sites in Lucas, plus four lively educational humanities discussion sessions, dinner and drinks at the Kansas Libations Club, plus brunch and unexpected surprises. The all-inclusive rate for single guests is $1,000. Full payment is due at the time of your reservation. The ticket rate includes good and services in the amount of $1,000 for a double occupancy room and $500 for a single occupancy room.
Humanities Kansas is a 501(c)(3) nonprofit organization and your generosity champions HK's Future Forward Fund in support of the statewide Movement of Ideas, making dynamic humanities programming accessible for the people of Kansas.
Make your reservation today.
Call 785-357-0359 or use the link below.
CANCELLATION POLICY
Guests have until June 2, 2023 to cancel with a full refund. Guests who cancel between June 3 – July 5, 2023 are eligible to receive a 50% refund. Refunds are not available for cancellations made after July 5.
Questions? Contact Humanities Kansas at 785-357-0359.

Thank You to Under a Paper Moon Sponsors

Exciting sponsorship opportunities are available. For more information, contact Julie Mulvihill at 785-357-0359.